Man, oh man. Hello there. Been awhile, hasn't it? Seems so. Miss me? I sure missed you. Isn't it awesome when life gets so busy you can barely find "me time", which for yours truly translates directly into "art time"? Yeah, that's
so
awesome.
Anyway, enough bitchy chit chat! We're here for doodles! (remember to click the
RED
for big)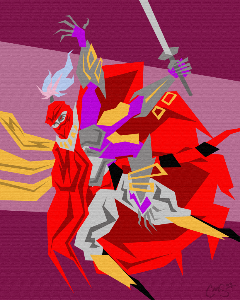 First up is
Gilgamesh
, as requested by Krow. Having only played through Final Fantasy VII completely, and being rather unfamiliar with the other installments in the series, I wasn't that familiar with this character. So, that explains why it's not an exact 1:1 of the true design. I sort of went a little wild and crazy, playing up the cloak and angles.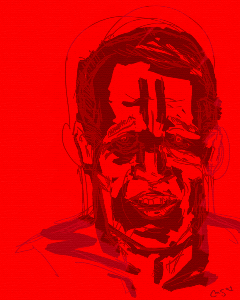 This one is called
Are We Red?
. I wanted to do something really odd and layered. So, I did. Please feel free to print multiple copies of this out and paste it all over the bathroom for your roommate to come home to.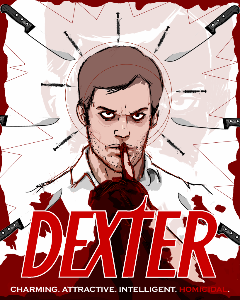 Ugh. Okay, first of all, yes,
Dexter
is an awesome show. Absolutely love it. So, when I decided to try my hand at developing a promotional poster, it was a surefire go. Only I kind of hate how this came out. There's something good there... just not what I wanted. This is probably going to be v 1.0, and normally I wouldn't even post something that I don't really like, but I spent too goddamn much time on this just to have it sit on my hard drive.
C'est La Vie
, yes?
Lastly (but not leastly), allow me to present...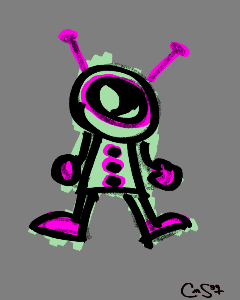 Disastronaut #1
and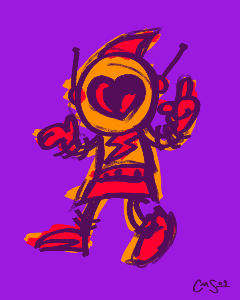 Disastronaut #2
Who are these strange little guys? My new favorite thing, that's what. I'm feeling like this could become a regular little series of pieces, and you know? Jim Dandy by me.
---------
Well, that's all for now, dear friends and neighbors. Hopefully I can make the next update more timely. It's good to see all of you fine freaky folks again, stay well and be excellent to each other!
- Suitcoat