Just screwing about, trying new styles. I'm actually really happy with how this came out for me doing it so fast-and-loose.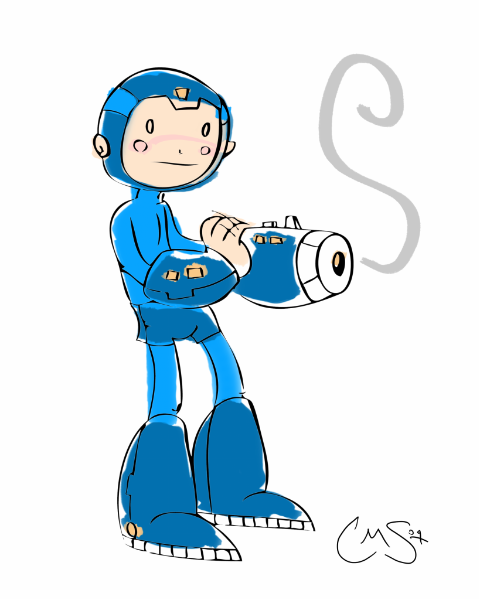 Click for Big
This is actually the first thing I've done in a couple of days I'm satisfied with. I've hit a bit of the old artist's wall, it seems. Probably just related to a lack of sleep and overstress at work. It's pretty maddening being out of 'the zone'. Sort of like having an itch you can't scratch, or when you keep hitting a canker sore with your toothbrush in the morning. How's that for poetry?
Anyhoo. Other bits;
- Dear Arkham Asylum; I had a really great time, and it was nice getting out and meeting new and interesting people. I'm glad we could go out on the town, and experience some really unique and beautiful things together. It's just a shame our evening had to come to a close so soon. Also, thanks for the blue balls at the end there. Nothing better than expecting to score a perfect ending to a perfect date, only to find a large mutant clown with a mohawk in the hotel room instead.
- Wet really surprised me with the insanity of its demo. I really didn't 'get' the game until I played it. That being said, it has a looooong way to go before it gets me to seriously consider picking it up. I've seen a lot of comparisons to Stranglehold, but really, I don't feel like it can hold a candle to Stranglehold at its current stage. And that's saying something; it's not like Stranglehold was the belle of the ball itself. Still, if it gets tightened up, we might be going somewhere. Also, was it just me or were the graphics really, really bad? Almost last-gen bad. Stylized, sure, but technically good? Nosir.
- Still chipping away at Red Faction: Guerilla. Really like it a lot, but I can't seem to stay focused on it for too long. Liberate a town here, destroy a landmark there, forget about it for a few weeks and then - oh hey, what a surprise!
Well, back to the drawing board.
OH, before I forget...
...
....
....
....
- Suitcoat