The Colonial Marines from
Aliens
are badass.
This isn't an opinion, it is fact.
Don't believe me? Then let Private Hudson convince you:
They're a squad of the toughest hombres in space with the coolest armour and weaponry ever committed to celluloid. Hell, a majority of the film just has three marines holding down a small area of the colony with half a clip each and some sentry guns.
They're
that
badass.
End of.
Well, actually it wouldn't be much of a rant if I didn't say more and honestly, something has been bothering me for a while, so much so that it's time that I let it out,
sans
a 'chestburster' metaphor. As influential as the Colonial Marines have been and over time eventually become the definitive version of what a space marine should be, I don't think some people understand what makes them so special when it comes to 'paying homage' (i.e. stealing).
Especially when those same people are games developers.
I'm not a fan of the way space marines are portrayed in videogames. You can pinpoint the obvious influences when it comes to characterisations and yet simultaneously, they're completely devoid of personality. Essentially, they're forgettable, watered down, cannon fodder that quips and screams on dramatic cue; always thrown into the fray straight away, making the moments of panic completely jarring since there's a lack of build up beforehand.
Developers can easily lift the aesthetics of the Colonial Marines, but they're rendered unmemorable because their identities have been stripped and the situations are taken out of their original context.
Look at this way, in the first forty or so minutes of the movie,
nothing happens
. The movie sets up the idea that it's going to be a sci-fi war epic, where the overpowered marines are going to wipe out all the aliens with a few obligatory casualties. What we get instead is a succession of calamities that wipes out a majority of the squad and the rest of the film is about the survivors having to adapt to survive (much like their enemy) and tensely holding out until help comes. In the end, there's one last stand and everybody except Ripley, Hicks and Newt are killed off in quick succession.
'This Time It's War'
Probably the best deceptive tagline that's been overlooked by videogame developers for years now. Like in the same way people play Green Day's
Time of Your Life
at funerals without realising the lyrics are about telling some ex-girlfriend to piss off.
The impact of the last stand is made much worse because you get to know these characters well. It's the little things that make it all the more believable despite their personalities being copied endlessly throughout movie and gaming history (coward, tough girl, reluctant leader). Personally, I love the way Hudson and Vasquez play off each other later on; as much as she thinks he's a complete dick, she psyches him up with a bash on his armour. They need each other if they want to survive.
You just don't see that subtle interaction in many videogames, especially when they try so hard in stuff like
Halo 3: ODST
(which is basically one big homage to
Aliens
) or
Killzone 2
. In those games, the characters just jokingly insult each other and yet there's no subtle sign of weakness, despite the representation of humanity. For all the teary-eyed reminiscing of Marcus and Dom in
Gears of War
, they're still desensitised enough to barge through their enemies without much fear for their safety.
I remember reading somewhere that
Aliens
was Jim Cameron's attempt at making his own Vietnam movie and when you compare it to something like
Platoon
, you can see where he's coming from; the Colonial Marines just so happen to be in space instead of Saigon. The aliens adapt, know the terrain better than anybody and overpower through sheer numbers – same tactics as the Viet Cong. It's your standard 'Horror 101', where you make the enemy more threatening than your protagonists. The exact same thing happens in
Predator
, where Dutch's specialists are out matched by an even bigger, advanced enemy. Take away the muscles and it shares a lot in common with a teen slasher movie.
Resident Evil
,
Silent Hill
and
Left 4 Dead
are horror videogames that understand this mechanic when it comes to the protagonist/creature relationship. Their enemies scale in comparison to their protagonists, so why can't videogame developers who make games involving space marines do the same?
Dead Space
was a game that quickly became unbalanced because it failed to adhere to threat scale. Issac would start out weak and yet by Chapter 4, he was already picking up powerful weapons that 'de-fanged' the once psychologically frightening creatures early on.
It's the complete opposite of
Aliens
, where the tension is constantly high because the marines never get access to better weapons. In fact, they become increasingly worse off as the movie comes to a close, but still have the upper hand through adaptability, communication and teamwork.
That's why we remember the Colonial Marines – they're fully realised human beings. You can pay homage to a number of lines made by the mouthy Hudson, but unless you show why the character turns out like a pant-wetting mess (before growing some massive balls in his final minutes), then it's just an
unsubtle
copy being taken out of context.
I guess that's why I've never gotten into
Aliens vs. Predator
's Marine Campaigns or the entirety of
Alien Trilogy
. Even when
AvP2
fleshed out the human characters with crossover arcs, it was still primarily about 2D stereotypes who left you completely alone to perform some daft one-man army heroics, all in the name of 'immersion' and 'experience'. I hate marines performing solo hero-wankery in videogames, which is probably why I love franchises like
X-Com
,
Space Hulk
,
SWAT
and early
Rainbow Six
.
Aliens: Colonial Marines
(hopefully) has the right idea by keeping you in a team, using adaptable tactics and learning the characters' backgrounds, but will that ever see the light of day?!
I shouldn't worry too much about that game's release, since someone did make a decent attempt in the form of a
board game
years ago. While you'd be hard pressed to hunt down a game where you have to keep your squad alive and re-enact scenes from the movie, you can always find the awesomely addictive flash version
here
.
Hey, if you're old enough, how can you forget
Aliens: The Computer Game
?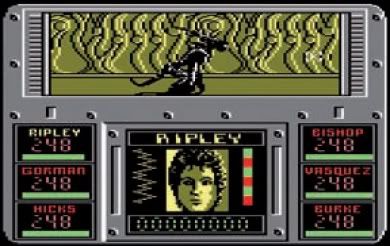 Despite this being the most boring picture in the world, it brings back vivid memories of what was probably the first horror game I was truly scared of playing.
The entire sequence of missing a shot, seeing the alien close in and the screen scrambling (complete with the heartbeat flat-lining) before switching over to another marine is truly terrifying stuff. They weren't coming back and no-one was deemed a favourite. It was all about slowly scouting out locations, moving everybody from room to room and hoping you'd survive long enough to take down the Queen.
Nobody could play the hero, just like in the movie.
After all, they're 'only human'.
Oh wait, that's
Robocop 2
.