As unsung heroes go, supporting characters end up being more important than the protagonists you play, usually because they're the ones that have to keep you immersed in the world beyond your personalised actions. We tend to expand their appearances into larger presences and yet if we were to replay their worlds, these characters barely amount to amber flickers.
They burn bright for their limited time, but very few burn brighter and shorter than Jenny Romano from
The Darkness
. With only
four scenes
to her name, she somehow transcends the notion of a supporting role and becomes something else entirely – a concept.
The Darkness
is a depressing videogame based on a slightly less depressing comic book. It follows the story of Jackie Estacado, a young contract killer for the local mafia, who finds out that he's a host for an ancient entity called The Darkness. Despite inheriting a horrible curse, Jackie takes full advantage of The Darkness' unlimited powers in his effort to get back at "Uncle" Paulie – the psychotic mob boss who betrayed him.
The word 'heroic' is barely in
The Darkness
' vocabulary.
Jackie is a nasty piece of work who uses a Mafioso code of honour; one that acts as his moral compass in an immoral world, but at the same time, doesn't elevate him above his victims. The one thing that truly keeps Jackie grounded is his girlfriend, Jenny. There's an underlining sadness to their relationship; two people who are clearly damaged goods, grown up together as heavily-reliant friends rather than true lovers, since neither show signs of commitment; probably out of fear of losing each other.
In a nutshell, they're doomed.
There's a major scene early on that sets Jenny up as a real presence. On Jackie's 21st birthday, he's a marked man and acquired the powers of The Darkness; which sounds cool considering most go out for pizza or get wasted. He visits Jenny and considering she's the only one who remembers his special day, the focus is intensely on her and a charming cake in an otherwise charmless apartment.
What really makes this scene special is the moment where they relax on the couch. It's not enough that you sit there and watch the opening scene of
To Kill A Mockingbird
, but you also get these added subtleties with Jenny trying to get cosy; all within the intimacy of a first person perspective.
It's a mundane, realistic moment that feels precious in an otherwise unrealistic horror action thriller. It's probably more honest that anything 'mundane'
Heavy Rain
forced upon you because of
The Darkness
' unchanging world. There's nothing in the way of being
purposefully
nice to your family in a saccharine setting, so it can wring out the juxtapositions of single fatherhood later on.
Of course, things with "Uncle" Paulie escalate to such a degree that Jenny doesn't even make past the first act. Jackie goes on terrifying voyage into mind of The Darkness and later deals with its presence in the real world.
This is really where Jenny becomes a concept. Now just a fading memory, Jenny is the one pure ideal that Jackie has left; without his constant thoughts about her, The Darkness will strip him of free will. Jenny is an abstract idea, used by the protagonist and antagonist for their own needs. For Jackie, her memory is metaphorical pinprick of light in the nihilistic unknown. The Darkness, however, needs a controlled glimmer of Jenny to fuel Jackie's rage and collect more souls.
It's an idea that's surprisingly played out in the loading screens. Loading screens can be laborious, break up the action and the immersion. Here, it gives an insight into the mind games being played and keeps reinforcing this idea of Jenny being the guiding light in the surrounding darkness.
In the end, the twisted symbiotic relationship comes full circle. One can't complete their goal without the other and Jackie sees Jenny one last time as his reward. It's professed love that comes far too late, unfortunately.
Jackie can never be redeemed or even rid himself of The Darkness, but he can be steered knowing Jenny will always be looking out for him
up there
.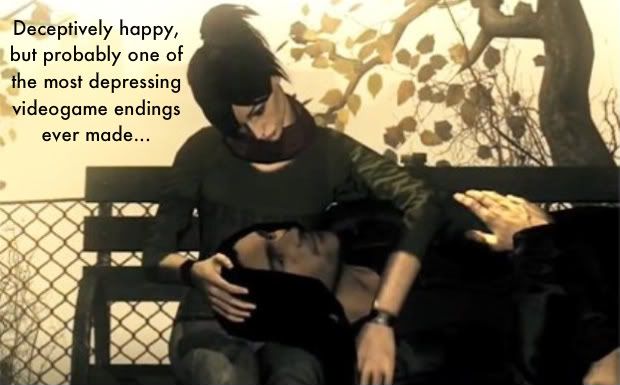 Recently,
Alan Wake
tried something very similar with Alice Wake and yet the idea doesn't work on the same level as
The Darkness
. Jenny Romano is a stronger character who accepts a darker world view before her untimely end, while Alice Wake teeters on the brink of being a clichéd 'damsel in distress' because of her
nyctophobia
and naivety.
Therefore, Alice is a catalyst rather than a concept and doesn't play much of a part in Alan's redemption; a man who regrets his past self and fixes them through words over social interaction.
As for
The Darkness
, it's an underrated gem that manages to turn the things we take for granted in everyday life and turn them into something important for the duration of the adventure. Much like Christopher Nolan's use of fragile flashbacks in
Memento
.
Ultimately, without characters like Jenny Romano acting these subtle moments out in the shortest of spaces, videogames would truly be mundane and boring the worst way imaginable.