I honestly don't know what the future might bring in general. If you ask me what happened last week, I'd be just as vague with the details. Right now, I'm thinking of systematically tattooing my body with facts like Guy Pearce did in the movie
Memento
. It wouldn't be important stuff like 'Kill John G' either, it would be shopping lists, deadlines and a map of places I had yet to unlock in
Super Metroid
. Back in 2002, I didn't even consider how much of an impact You Tube would have on something like music TV channels.
I feel the same way with the videogame industry too. If I can't tell what's going to be the 'in thing' in five years time due to technological variables, what's the point of even guessing? My worst nightmare is making some kind of plausible prediction on camera, only for it to be laughably wrong and viewed countless times on a futuristic 3D version of the internet long after my untimely death in a tragic blimp accident.
Still, there's one thing I can be sure of in the future – we'll be laughing at the past.
The dizzying graphical highs we live in now will already be called dated by the time we all cower in a bunker waiting for 2012 to pass without incident. We'll probably all be gathered round the glow of the 'old' HD Ready TV and deconstructing the unrealism of
Modern Warfare 2
's plot and poor shadow pixels; it'll be the only joy left in the world as unmanned nukes go off around us.
In all seriousness though, rose tinted nostalgia and post-modern examinations of history will always stand firm in the fluctuating world of technology. You only have to look at the increasing abundance of critics like
Angry Video Game Nerd
,
The Nostalgia Critic
and
The Spoony Experiment
to see where we're heading in terms of videogame media, now that
TV has given up on it
.
Not that there's anything passé with looking back and saying, 'oh, realistic androids in 2019? Yeah, right!' or 'Nolan North can do a thousand voices...all of them Nolan North'. Recently, I've been getting my kicks out of replaying games that dealt with the future and yet lacked the foresight of technical evolvement. Take
Ripper
for example, a mid-90's FMV game featuring Christopher Walken, where people use giant Star Trek tricorders as mobile phones, surf artificial worlds with virtual goggles and everything is bloody grey. It's like an episode of
Tomorrow's World
where all the technical marvels featured were about as plausible as food pills and living on the moon by the time the millennium rolled around.
For all their technical wonders and virtual plastic surgery, underneath it all, videogames are shallow enough to be pretty susceptible to sarcastic dissection. Videogames are an enjoyable form of art and entertainment, but even the deepest meaning games can be a shallow experience once you've found a way to unravel the experience through plot inconsistencies. But there's also a lot of forgiveness involved, probably because we affectionately have an interactive multimedia to call our own. One that, in its current infancy, needs to be supported when competing against established forms.
Personally though, I'm still waiting for someone to give
Killzone 2
a much deserved riffing for its ham-fisted Iraq War allegory,
Mystery Science Theatre 3000
-style.
After the visual 'wow' factor is gone, can we really take games with cinematic themes that seriously? People I knew certainly did all the way back in the mid-90's. I say this because when I was fifteen, the original
Resident Evil
game blew me away. It was a nerve jangling ride of pure horror in a fully realised environment. Every window smash, dog mauling, zombie groan and hunter's scream was tough to get through in the dark. I squirmed around in my seat like a youngster watching a B-movie in those black and white archive clips. All I needed to complete the retro look were 3D glasses, exploding popcorn and a girl with a pleated skirt and a cashmere sweater next to me.
Of course, I grew up, took in a lot of culture and what passed for a sophisticated story about a special ops team trapped inside a house of nightmares was now exposed as a mess of plot holes and truly appalling acting. Just like a straight-to-video B-movie funnily enough. How many people do you know can take the dialogue seriously as I did way back in 1996, without mentioning 'Jill Sandwich' with overcooked abandon?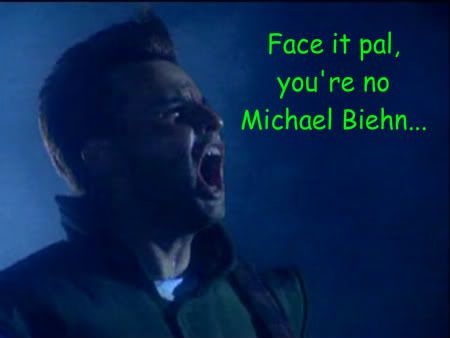 However, for all my cynicism of now, I can appreciate the techniques that made my naive younger self enjoy what he saw and I think that can be said for a lot of critics that try their hand at affectionate ribbing.
We're growing up in generation who have been treated to a good ten years of post-modern, reflective humour. It's nothing new though. In the end, it's just a torch passed down from another form, be it radio to television, or television to the internet. Yet, while the media changes, the tongue-in-cheek humour remains the same. I should say something here about how it's the consistent human side of emotionless, evolving technology...but honestly, it's pretentious and corny as hell. Oh hang on: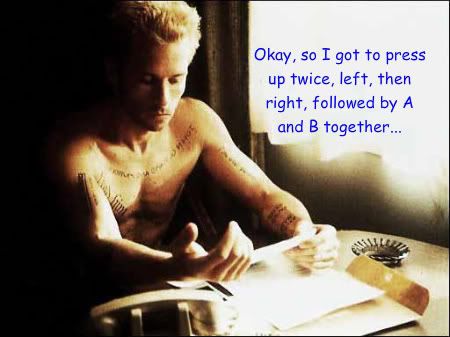 If that's the truthful comparison though, then why does it remain so?
I guess it's because we've become so obsessed with looks in the industry, that even the basics like a good script goes undeveloped. Ever since Sony came up with that 'Emotion Chip' nonsense for the PS2, it's been nothing but 'processing power
this
' and 'dick waving contests
that
' by the big companies as they beg for your dollar or pound. It's soulless stuff aimed at kids who know nothing, but at least their finally getting their act together when it comes to the older audience. You've probably seen Microsoft's enthusiasm for
Alan Wake
's plot and emulation of a TV show more than them talk about it being a graphical revolution at this year's CES keynote speech.
Heavy Rain
is getting a similar treatment with Sony. Maybe it's the beginning of something new, maybe it's just a gimmick if it doesn't take off, but at least it has more legs than the 3D idea floating around at the moment. They tried that in the 50's and 80's, remember?!
But among those rare emulative ideas, we'll always have the dumb Jerry Bruckheimer and Tom Clancy games dressed up as thoughtful and credible forms of entertainment. The ones where we can sit down and enjoy for all their daft glory with some semblance of seriousness, then look back with two robots on a space station and have a good laugh about their short-sightedness in our future space station.
Hell, why wait until then? There are people doing that sort of thing on the internet right now! Check out
The Spoony Experiment
's commentary on
Phantasmagoria 2: Puzzle of The Flesh
if you have the time
(all five hours of it)
.
At the end of the day, it's easy to riff on any old game that we deem an all out classic; the ones where we only to start realising the cons long after the feverous momentum has died down. Of course, we'll only realise this in the future, where our older selves will be laughing at the awkwardness of the past.
And by that point, all we've learnt is that the past will always be a constant in the uncertain future.
Keep on trucking.