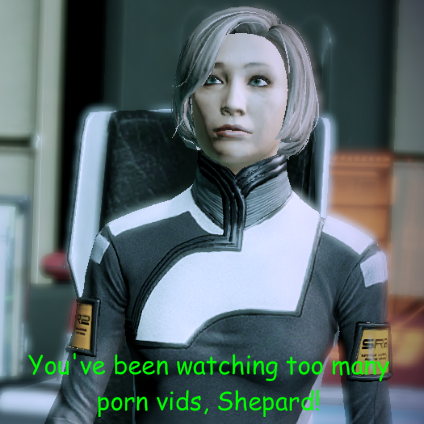 Sometimes it hurts to be a bit blunt, but I find the whole 'Tali/Liara' obsession in
Mass Effect
fans a tad unnerving. Sure, I ended up in a relationship with Tali in the sequel, but I found it to be an honest character progression rather than anything to do with the exoticism of alien beings. With the humans like Miranda and Jack, I felt very little in the way for their romantic intentions. Miranda was someone who didn't thaw out after all was said and done, while Jack reminded me of too many wild girls from high school who put out for anybody, then eventually dumped their problems on me.
But as Shepard did the wild thing with his old friend, I couldn't help but think my heart lied with someone else.
There's a great scene in
Mass Effect 2
between Shepard and his good friend Dr. Chakwas, where they get totally wasted; reminiscing about old times and her real reasons for joining Cerberus, despite her loyalty to the Alliance. It mostly serves to expand on the enigmatic doctor and how jaded her romanticism of space-faring life has become. If she's going to die on this suicide mission, it's going to be because she followed a great hero like Shepard. Now that might sound a bit crazy, but since he's already saved humanity once, she's making a safe bet. Then it kind of hits me that the reasons she gives are not that much different from Tali's admiration of the Commander.
Well, I guess one thing is apparently obvious to you now...
I think Dr. Chakwas is a total babe.
She's like the Helen Mirren of space. Only she's even more posh and she wasn't in a film where Malcolm McDowell did some lewd acts with his arm and someone's bum (see:
Caligula
). Despite being in only a handful of scenes in each game, I guess she's made a real impact on me; so much so, that I actually noticed her new hairdo in
Mass Effect 2
straight away.
See?!
That means I care about women's things!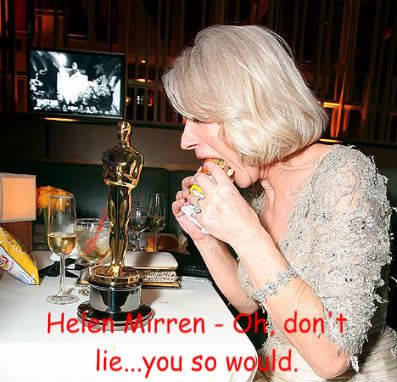 Anyway, Carolyn Seymour does a great job of filling out Dr. Chakwas' past with daydreaming sighs and cynical inflections. The good doctor comes across as woman whose life of adventure has gone by too quickly and now she melancholically looks back at the naive, almost oblivious, girl she once was with a fire reignited by Shepard's heroics. I've always found the delivery note perfect in both games and it's a shame that once you've had a few scenes with her, she doesn't really do much for the rest of the game.
In the original
Mass Effect
, I found Ashley Williams and Dr. Chakwas more interesting than Tali and Liara. Probably because they both appealed to my attraction for 'the hard to get' type and 'the older woman' (yeah, I know...I'm a pervert...big whoop). Actually to be fair, I also found Tali interesting, but for slow burning reasons that were expanded on in the sequel.
I never cared for Liara, with all that swooning and the way the game made you take advantage of the 'weaker girl'. It didn't matter if she was an alien or not; she was just plain easy, safe and bit boring. She appealed to the geeks. I like that BioWare turned her into a cold manipulative character for
Mass Effect 2
though, since it shook that group of gamers out of their over-protective complacency. Still, despite the short screen time, Dr. Chakwas (anagram for 'hacksaw' apparently, fact fans) was more memorable than the others. After that boozing and puppy dog eyes scene in the sequel, I felt somewhat frustrated when all BioWare allowed me to do with her was to just repeat old conversations until The Suicide Mission was activated.
Now, I'm not really going to run to the top of a car park with a megaphone, screaming injustice over a fictional character and accuse BioWare of being ageist, but if it's pretty obvious that the character
really likes
Shepard – a protagonist who is mostly an extension of your personal choices – then why aren't they allowed to 'get it on', so to speak?
Then I came to a realisation that you don't really see age difference relationships in games.
So, the question remains - Why not?
Sexual relationships with exotic creatures (human or alien) are fine apparently, but I can't remember a game where there's a ten or twenty year old age gap relationship which involves the player. You know, ones where you're
not
an immortal character or an older man with a younger woman.
Now it's easy to say, 'oh yeah, what about Liara from
Mass Effect
? She's like four hundred years old' and to that I would say, 'she's made to look seventeen or nineteen and she's pretty immature and inexperienced when it comes her personality.' Then I'd probably show a graph comparing human and dog years, talking about scales or something...and that would be pretty sad for everyone involved.
Either way, you only have to look at comments made by people on
Gametrailers
and
Gamespot
to theorise why there may be a subconscious reluctance on a developer's part to engage in these kind of subjects (ones that aren't even taboo to say the least).
If it's completely common in real life, then why isn't it apparent in videogames?
I don't really have an answer for that. Personally, I believe it has something to do with disinterested younger gamers making up the majority of the market share and most videogames' concerns with empowering a male audience; tasking them with saving weaker female characters and so forth.
Anyway, I would go off to ponder the answer in more depth, but instead I'm just going to stalk Dr. Chakwas on the
SSV Normandy
for a few hours, while hypocritically calling Liara-philes 'a bunch of weirdos'.