Christopher Lloyd is a creepy sod when he wants to be.
For years, he chose to be relatively bug-eyed and harmless, starring as
Back to the Future
's lovable Doc Brown and burned out hippie Reverend Jim Ignatowski in
Taxi
. Well, all that changed when he scared me to death during the finale of
Who Framed Roger Rabbit
with his screeching delivery of "Remember me, Eddie?"
Even now, his horrifying death screams still put my teeth on edge, so when something like
Toonstruck
comes along, there's apprehension abound. Yet, in a videogame where you have Christopher Lloyd acting violently crazy in a cartoon world, that's probably not the worst thing you're going to endure.
Developer: Burst Studios
Release Info: Published by Virgin Interactive in 1996. People say it's "abandonware" nowadays, but a developer, Keith Arem, owns the rights and is trying to make a complete cut of the game. You'll need DOSBox to run a copy too.
Toonstruck
is a videogame about the perils of animation, only the animation is awful and there's not much in the way of gaming.
Stripped of half its original content, badly promoted despite Lloyd's appearance and overshadowed by a burgeoning console war, things were understandably bleak on release. It's one of those underdogs that are
championed long after the dust settles
, but in retrospect, there should be some kind of counterpoint as to why a videogame like this failed.
While creating new characters for
The Fluffy Fluffy Bun Bun Show
, cynical animator Drew Blanc is warped into the same programme by one of his failed creations, Flux Wildly. He's asked by Flux to help him save Cutopia from Count Nefarious' Malevelator Ray, which turns everything from "sickly cute" to "sadistically evil". Though things get complicated when Drew's loathsome bunny creation and Nefarious both want to turn the real world into their own demented styles.
Basically, it's one big set up for Drew to sarcastically dead pan his way through a saccharine hell-hole. Of course, eventually he warms up and remembers why he's an animator in the first place – to have fun.
Aww!
If only you got to see that progress onscreen.
Drew blatantly accepts he's in a cartoon on arrival and despite calling Flux "his friend" he tells him to shut up at every opportunity. There's an inconsistent progress and without the ground rules, it's hard to grasp why any of Drew and Flux's actions are important. The antagonists' motivations make little sense too, because it's unclear how or why they want to invade the real world.
Is Drew really in an animated world or has he gone mad from the stress, with the three kingdoms representing his fractured psyche?
Well,
nobody
knows; probably not even the developers either.
They were having too much fun telling Lloyd "now you're being hit with a cartoon rubber mallet". Speaking of cartoons, the animations are dreadful in
Toonstruck
; like cheap Korean animation and I don't mean the South side.
There are too many uninspired characters, aside from the brilliant, unfinished henchmen and the dominatrix farmyard animals. The design of Flux is just a purple blob with Ray Bans for eyes. It's not hard to see why Flux Wildly is considered (in-game) to be a failed creation. Flux is fundamentally a poor man's Max from
Sam & Max
.
For maximum irony, Drew should have teamed up with Poochie the Dog from
The Simpsons
(like Flux, also voiced by Dan Castellaneta).
As an adventure, it suffers from that horrible "follow the developers' mindset" design flaw. There's a part where you see some nuts and
then
you find an elephant who will take you to an island, but only if there are nuts in the dispenser. Only the solution is that you knock out a mouse, put him in the dispenser and wake him up with some fertiliser. The same fertiliser that's more likely to be used for growing the nearby pepper plant out of a briar patch.
No dice, apparently.
There's logic in the puzzle once you see the solution in action, but its just one of many moments where the direction is unclear. Though, if you're free to be imaginative with one puzzle, why is another puzzle creatively constricted, like using a specific glove and on a pool cue?
It's hard to believe that it could be due to the troubled production.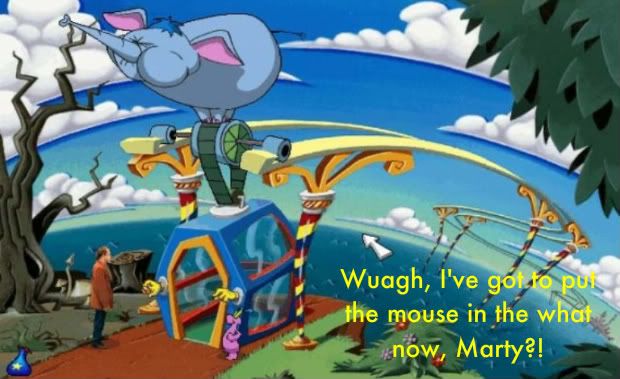 Of course, this brings us to the cut content mentioned earlier.
This is what has elevated
Toonstruck
to cult appeal over the years; this idea that it's actually
half a game
. Content was intentionally dropped for use in a possible sequel and when you play
Toonstruck
, you can feel (and literally see) sections are missing. Though, not in a way that completely derails the story; that was already poorly written, genuine humour excepted.
Nowadays, people despise missing epilogues and DLC, yet fans of
Toonstruck
are willing to see this missing content as a reason to champion an average adventure, as if it's not the fault of
a great comedy
being dealt a bad hand by poor execution.
Toonstruck
obviously strived for hidden contexts and dark extremities, just like the old Looney Tunes cartoons it copies. Too bad they used the idea of animation as a superficial selling point. It says a lot when a 'traditionally animated' adventure like
Broken Sword
ended up being more successful, especially when it tried to convince you that it was a thriller above all else.
I'd make a joke here about being just as jaded as Drew Blanc and how I need to be sucked into an adventure game to realise the error of my ways but...th-th-th-that's all, folks!
Yeah, you have my permission to groan.