Camera Operator...Probably the worst job you can have in media. Well, I mean in fantasy media. In real life, itís a pretty sweet deal. Take a job in a movie though and youíre likely to be killed filming an accident, a murder scene, an eerie woodland legend or a giant lizard rampaging around some hipster city. Once you pick up that camera and turn your baseball cap backwards, you may as well film your last will and testament. You wonít be at the wrap party thatís for sure. Itís an intriguing premise for a game though. Youíre bound by a technology that warrants your doom but at the same time you have a sense of duty (and a job description) to carry on regardless. The voyeuristic tendencies as a player are already in place, so it makes sense to base a game on them.
Michigan
was a weird idea for a game when I first heard about it, but it ticked all the boxes since I was studying film at the time. The premise puts forth all these ideas about immorality and gauging the playerís ethical limits to see how far theyíll go for the truth. Ultimately, it satirically questions the motives behind news networks and importance of ratings over lives. Oh and it also gives you the ability to film up skirts.
Yes,
Michigan
is a game full of contradictions. Itís an interactive game where you donít really interact with anything. You have to survive an outbreak, but thereís ultimately no defining goal other than to watch it unfold. Youíre required to defend yourself but only the reporter can shoot the enemies you tag. Even the title doesnít make much sense since the game takes place in Chicago, Illinois. Lake Michigan (at least I think it is) features at the end, but it has no bearing on the story at all. To cut a long story short, itís a curious game to say the least.
The plot involves you as a news cameraman for ZaKa TV. Along with your annoying boom operator Brisco and bitchy reporter Pamela, youíre sent out on assignment to cover a strange thick fog that has descended over Chicago. Of course, within minutes, bitchy Pamela is attacked by a giant leech/vagina monster (it really is
that
unsubtle at times). So you and Brisco do what any decent media types do...You leg it to the van and leave her to die. Youíre soon sent back out with another reporter (theyíre a dime a dozen as youíll find soon enough) to cover the outbreak of monsters. Eventually, you go from reporters to survivors as you try and track down the source of the outbreak in an evacuated city. Trust me when I say nothing goes to plan for just about everyone involved. This game has one of the most bleak, creepiest and nihilistic endings ever made. Itís amazing what you can achieve with a low battery signal.
Thatís pretty much the story in a nutshell, but since you have to report things live or film stock footage, you have to be constantly getting into the right position and tagging points of interest to initiate extra content like interactions. You, as a voyeur, donít really have much say in where to go and what to do. Occasionally, youíll be asked to find a switch or find an item, but your main role is to just capture everything on camera. While some games use the filming or photography as a game element, they donít use it quite as prominently as
Michigan
. The rare exceptions that spring to mind are the 3DOís
Vouyer 1&2
and the Mega CDís
Night Trap
.
The filming consists of three scoring categories that each rewards you a specific ending Ė Suspense, Immoral and Erotic. Suspense is getting all the major plot points on film. Immoral is where you act in a negative way to a situation or person and Erotic is where you just dick around and film a reporter in the most un-erotic way possible. Immorality is an interesting feature since youíre always striving to get everything on film and thus conditioned to ignore those pleas for help.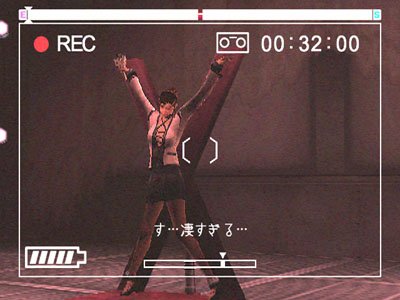 At first, the immorality starts off innocently enough. Your fellow reporter falls over when you should have warned her and she scolds you. As the situation becomes more deadly, the choices become more serious. Do you film the guy stuck on the train tracks or do you stop filming and rescue him before something pulls him away? You wonít get the footage youíre paid to find but you might feel better about saving someone.
At some points, the immorality is played out in front of you without your input. There's an interesting example when you are involved in a scene where your team hears a girl asking for help and tell her on camera that theyíll find her. Eventually, you film the interaction between her and your reporter. Did you just risk your life in a collapsed building to rescue a girl or to get the sympathy vote from viewers at home? Itís never explicit either way, but the thought is there.
Then again, I might have been reading too much into this game, because while it presents these theories, itís one of the worst executed games Iíve ever played. The bad voice casting is probably the least of the gameís problems. The direction is just awkward at times; playable scenarios give way to long periods of blank screens and audio, levels stretch out into lonely wanders and POI tagging. The plot is just inexcusable at times, especially when it wraps things up. Itís nice that you donít uncover every detail, but it doesnít really make much sense either. The death of a reporter simply shuffles you on to the next bit with another one in her place. This would make for interesting branching off narrative, but ultimately, the characters all the say the same lines. Itís just a case of preference and knowing how to keep them alive. When the real cinematic set-pieces begin, the FMV takes over; which is pretty unfair considering youíre in control throughout the game. Overall, the entire game screams Ďcheapí from start to finish.
Sure, this a Suda 51 game of sorts, but the story goes that Grasshopper made this as a quick cash-in for students. From what I can gather, Goichi Suda only came up with the initial idea and let everyone run rampant with the tiny budget they had. At one point, he didnít even know that 505 Games bought it (and butchered the extras) for European distribution. With a bit more thought and time behind it,
Michigan
could have presented the subtext a lot more seriously with a lot less b-movie titillation.
But in a strange way, I like the game for the ideas that lay buried underneath the flaws. Itís a unique title and not just for the survival horror genre. Itís a game where the story doesnít force itself around your needs. Thereís no way to distort the narrative structure and take charge with your heroic motives. Itís fantasy journalism in a medium that strives to emulate its realistic counterparts.
Michigan
is technically a bad game (which I admittedly like), but it also manages to highlight how refreshing the camera lens could be in games as a primary function rather than a tool. Iíd make a joke about it being no Pulitzer, but that would just be silly. Have this picture of a reporterís ass instead.