In everyone's childhood, there are moments where you get an idea that's both realistic and implausible; like starting up a detective agency or ghost-busting in your school overnight. Somewhere along the line, the cold hand of cynicism firmly places itself on your tiny shoulder and a morose voice says, "Forget it, kid. It's never going to happen."
As a child, you don't want to hear that kind of talk.
You keep trying to investigate
anything
, which culminates in the stalking of classmates with binoculars and the realisation that you might be a borderline psychopath. Plan B involves trying your hand at ghost hunting, only to find an infamous "door of death" leads to a mould fragranced stationary cupboard.
Maybe you, alright...
I
, should have stuck with that accountancy idea.
Then again, you (or
I
) could just blame Nintendo for never releasing
Famicom Detective Club Part II
overseas during your (my) childhood, since its mix of urban myth and criminal investigations would have easily sedated a fevered imagination and put off growing up for a while.
Developer: Nintendo.
Release Info: 1989 on the FDS and an enhanced version on the SNES in 1998. SNES version was unofficially translated in 2004, so *cough* emulation sites *cough* or bust!
For all the talk of videogame's recent growth spurt in maturity, it's somewhat surprising to discover videogames like
Famicom Detective Club Part II
on systems as early as the SNES. Usually, these titles are discovered by osmosis; a weird game of
Six Degrees of Kevin Bacon
with a ROM search engine. Anybody can play it if they have a dull Sunday afternoon to spare and it's richly rewarding to find how far back these obscurities were created.
Famicom Detective Club Part II
is actually a prequel that was released within months of its predecessor. You play a teenage runaway who, during a misdemeanour, bumps into the renowned private investigator, Shunsuke Utsugi. He hires you to be his assistant, because you've got
The Right Stuff
and probably because he needs a second set of prints on a handgun.
Well,
you
explain why he's wandering around at night! This guy is clearly not Batman and he's not drafting you into a vigilante war on crime, so what's his deal?
Sometime later, the duo investigates the murder of local schoolgirl. Shunsuke is already investigating another case and has the crazy idea of planting you in the dead girl's school to fish for clues. From there on in, it's the Japanese equivalent of
Brick
.
If you've ever played the original
Phoenix Wright
trilogy or
Snatcher
, you'll know what to expect in terms of interaction here.
Around the school and outside areas, each location has a screen to investigate. Using a number of commands in a menu screen, the player has to
meticulously
scan areas or interrogate students in a glacial effort to progress. If you ever get stuck, it's probably because you forgot to talk someone or investigate a clue.
Look.
Investigate.
Talk.
Look.
Move.
Investigate.
Take.
Talk.
Oh look, a cutscene.
Move.
Look.
Check your Memo because the name seems really familiar.
It's not.
Think and so forth.
You can use numerous flashy words from the nearby
Oxford Dictionary and Thesaurus
and pretentiously talk about how the accurate portrayal of investigative procedurals, but it still won't detract from the fact that it heavily relies on menus and Play Novel linearity.
Yet somehow, if you have the time, you'll probably run through this game in one thought provoking session.
That's because the story is actually one of the best written out there. Murderous twists that stay grounded, mundane school talk and red herrings are all played out in the foreground of an infamous urban ghost story,
The Girl in Back
(sic); a student who disappeared several years earlier and now roams the school, un-aged and covered in blood.
You're constantly reminded of this eerie tale and it's accompanied by genuine dread throughout; like when the school day ends and you need to stay around for a vital clue. It might be a stunning sunset outside, but an empty school is still ominous. You become strangely glad to see the face of a teacher, even if they probably drive home in a "Free Candy" van.
It's this kind of juxtaposition with the characters that makes the plot enjoyable.
They're wonderfully fleshed out, all with their own motivations and human flaws; like the biology teacher who started the ghost rumour when she was a pupil and now has to live with the results years later. There's always some revelation just around the corner to keep you pushing forward; which you eventually report to your boss. So he can obviously take all the credit.
The smug git.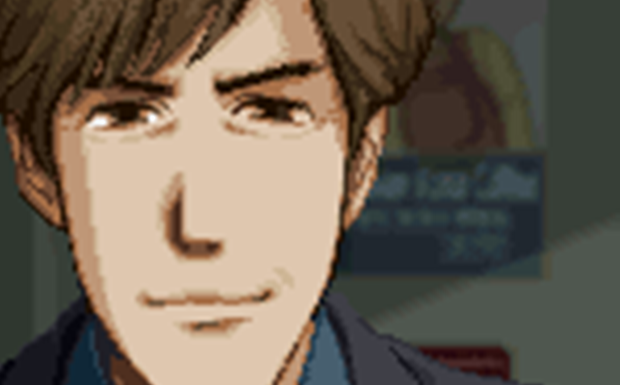 Like all good
noir
mysteries, everything is connected, logically well thought out and you'll probably be surprised at the killer's identity. It's easy to see why it never made it overseas though.
Famicom Detective Club Part II
is a videogame rooted in Japanese culture; there's the workings of the school and the local nightlife, the minor "dating sim" aspect with Ayumi (your sidekick) and a traditional ghost story that blurs the line between fact and fiction.
Well, all that
and
you can grope a dead girl's boob.
It doesn't matter though and it's heart-warming to know that fans out there took the time to translate it. It might not be the most
technically
engaging thriller ever made, but if the idea of a high school
noir
interests you as much as
Hotel Dusk
or
Phoenix Wright
, then give it a go.
Besides, wishing you were Joseph Gordon-Levitt, while dreaming of a cool and dangerous ghost-hunting/detective agency past, is severely unhealthy when you're nearing 30.
Alright, alright, "...when
I'm
nearing 30".