The first thing you'll notice when you look at the cover artwork for
Black Dahlia
probably won't be the deceptively simple 'dead or sleeping' picture of a woman. It probably won't even the bright red blurb pleading with you that the idea of swapping
eight
discs in mid-game should be deemed an "extravaganza". Even less likely would be the title, which seamlessly blends into the surrounding blue hues. None of that will avert your eyes from
the
number one selling point proudly on display:
It features HOLLYWOOD LEGEND DENNIS HOPPER!
In case you didn't know that, DENNIS HOPPER's name is nearly as big as the title and is plastered around just about every conceivable space available.
Hey, when you've got DENNIS HOPPER in your game, you better make sure people know about it. The guy probably ate up half the budget bringing his A-game to this forgotten piece of gaming history. On further inspection, I'm surprised the girl on the cover didn't turn out to be DENNIS HOPPER because he pops up on at least three sides of the packaging.
Hell, I'm even more surprised that they didn't call this game
DENNIS HOPPER featuring Black Dahlia
.
Hmm, who's that on the back of the bo---hey, it's DENNIS HOPPER!
Who's that on all the discs?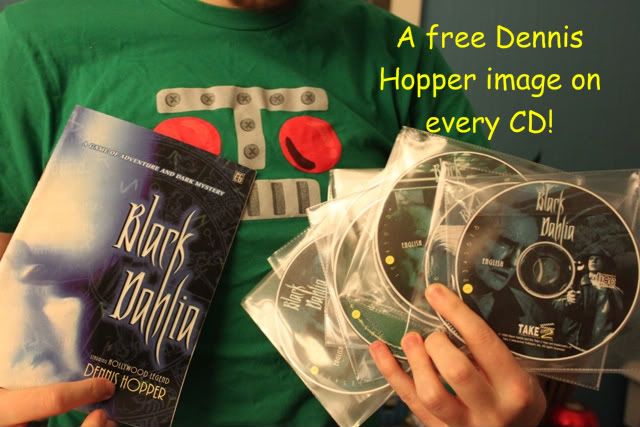 Why, it's HOLLYWOOD LEGEND DENNIS HOPPER!
By now, you're probably thinking, "I sure hope DENNIS HOPPER is worth it. I mean, he must be because I don't know who co-stars Teri Garr and Darren Eliker are! They're like those unknown actors who somehow get 'guest star' billing on TV dramas!"
Believe me when I say I shared the same sentiment when I first picked up this game in 2003 and finally got it to run on my PC about three years later.
All throughout the game, the large cast of eccentric characters build up the arrival of a Hollywood star to the point where you'll wonder if DENNIS HOPPER will show up at all and yet, in some kind of sadomasochist celebrity stalking kind of way, you keep playing just to see the novelty of a famous actor in a videogame. Sadly, there's no option to violently grab anyone and scream, "where the hell is DENNIS HOPPER already?"
When it does finally happen, DENNIS HOPPER has a five minute scene, give or take some outside narration and an image of him sleeping at his desk. At first, it's quite easy to delude yourself into thinking he'll come back, but as the story progresses and his character's sudden disappearance is sidelined, the truth really does hurt. Thank you Take Two, you really knew how to spend your budget wisely after
Ripper
a.k.a.
CHRISTOPHER WALKEN featuring Ripper
.
Aside from the overblown cameo,
DENNIS HOPPER featuring Black Dahlia
is actually a well written and atmospheric tale, with great acting from the lesser-known thespians (except Teri 'cue cards' Garr). Most of the credit should really go to Darren Eliker though; his performance as the tortured main protagonist, Jim Pearson, is definitely a much needed shot of enthusiasm in an adventure game that gets bogged down by notoriously difficult puzzles. The effort he puts into immersing you in this pre-rendered world is definitely interesting to watch. Check out this
interview
to see why.
DENNIS HOPPER featuring Black Dahlia
's tale mixes real life events with the supernatural. Jim Pearson, a COI agent, is asked to take up his predecessor's investigation into a secretive club that might have ties with Nazi sympathisers in Cleveland. Meanwhile, the city is being terrorised by The Torso Killer, a serial killer who chops up his victims and wraps them up in tidy pieces for the police to find. Over the course of several years, Jim's investigations and travels lead him to believe that the cases are connected and that someone is performing a ritual to summon a vengeful Norse God, all with the help of The Black Dahlia – a magical gemstone – and nine sacrifices.
Like
Ripper
before it, also made by Take Two, the plot really has nothing to do with the history of the title. You expect that the story should be about events leading up to the real life murder of Elizabeth Short (The Black Dahlia herself), but the game only makes reference to her near the end where she makes a short, almost tenuous, cameo. In the words of CHRISTOPHER WALKEN:
It's the very epitome of videogames not knowing how to restrain themselves; especially with
DENNIS HOPPER featuring Black Dahlia
. Here you have a solid horror-noir tale, with some great backdrops that lovingly recreate the 40's and yet somewhere along the line, you're running around in catacomb mazes, solving Indiana Jones riddles and travelling around in your dreams.
Oh and a brief appearance of DENNIS HOPPER.
General narrative nitpicking aside, the plot is strong enough to see it through the lagging sections that involve some real time consuming puzzles. People close to me would say I'm pretty smart at videogames, but when it comes to adventures, there are usually two or three moments where a guide has to be involved. In
DENNIS HOPPER featuring Black Dahlia
, you might as well just skip the guide and use cheat codes. While I may criticise the plot, it's the puzzles that are the main problem. It's
too
taxing at times, with solutions buried under
more
puzzles.
It's not really fun when the game comes to a dead stop as you wonder how to open wooden box in the shape of a house or press panels in a certain order (derived from a piece of paper you have to fold in a specific way). It's supposed to make the FMV scenes all the more rewarding and special to watch, but I think it's just too detrimental for that.
Even without the puzzles, the mystery is actually enjoyable to watch as it unfolds. It's the sort of edutainment thriller that's missing from videogames at the moment.
Black Dahlia
(not doing that joke anymore) is one of those games that highlights an era of great, experimental, intentions but let down by lacking technology, not to mention the blindsided cinematic devotion of videogame developers. It just seems like a lot of these interactive videogame dramas were so focused on showing people what CD's and blue-screen could do that the actual 'videogame' was missing. I guess it's a shame, but an inevitability, that the FMV era never worked out and only now developers are starting from scratch again to gain that kind of early cinematic credibility.
Still, we'll always have DENNIS HOPPER.