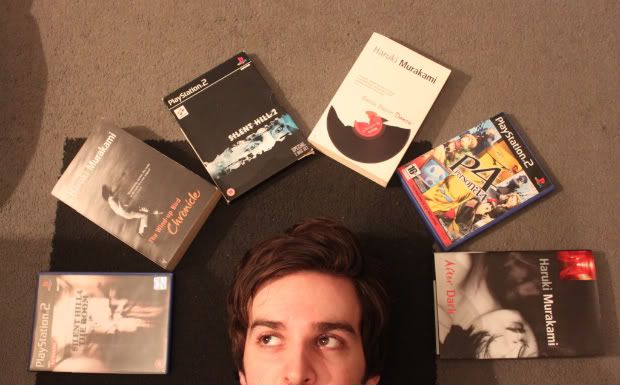 If youíve seen the recent trailers for Atlusí forthcoming
Catherine
and think youíre a cultured person, then youíve probably picked on the similarities it shares with the existential works of Haruki Murkami. Itís hardly a stretch to make comparisons between the disconnected protagonist and his mundane world being invaded by a surrealist presence with a novel like
The Wild Sheep Chase
.
Oh, and the appearance of Ďsheep mení couldnít hurt that claim either.
Murakamiís influence has seemingly increased in Eastern videogames in the last decade. His literary worlds of urban quests, self-discovery investigations and distant observations all pop up as minor elements in videogames like
Silent Hill 2
and
Persona 4
. Those different realities that are accessed through use of television or a simple hole can be pinpointed to
After Dark
,
Dance Dance Dance
and
The Wind-up Bird Chronicle
.
This is all theoretical on my part though. Researching any kind of influence the writer has had on videogames is hard to come by. Still, itís not hard to imagine that a famous writer can influence plot driven videogames.
Murakami is not the definitive article,
but
he is one of the few names is being name-checked, in the same way as Stephen King or Mark Z. Danielewski, when it comes to
recent horror titles
. Maybe, itís a sign that developers are realising that theyíre getting more out of emulating literature rather than cherry picking cinematic moments.
Then again, itís cynically tough to give them that kind of due credit.
In
previous
pieces
, thereís always been a personal dissatisfaction with the way videogame developers completely misunderstand what theyíre reinterpreting. Though when those surprisingly concise narrative elements do shine through, is it because of cinematic emulation or literal influence?
With a movie, you participate as a passive voyeur. While you process and understand the narrative, you canít take a break from the motions. Itís the opposite kind of pace for literature. You are able to stop at a page, paragraph or line and take the time to understand the complexities. Itís impossible to randomly choose a scene, read it and visualise everything without the information it has been built from.
You, as an engaged reader,
has to
think to progress.
Yet, how often do we even notice these literal influences if weíre more concerned about a sceneís portrayal?
Bully
had a superb story that played out like an extreme version of
The Catcher in the Rye
; with Jimmy Hopkins acting as a modern day Holden Caulfield. Even the developers couldnít help but put in an optional deerstalker hat for you to wear, in case you missed the references. Unfortunately, title controversy overshadowed plot allusions to the point, where the former is discussed more than the latter.
Silent Hill 4: The Room
has one of the strongest plots in the series, one that uses Ryu (no relation) Murakamiís
Coin Locker Babies
as a basis, but is more remembered for a rushed second half. The plot was questioning the trappings of urbanites and what it is to give life to something as nihilistically inanimate as an apartment room. Well, if many preferred to complain about why thereís an increase in melee combat, thatís perfectly acceptable too. Youíre paying for enjoyable interaction, after all.
Sadly, it doesnít help highlight stronger narratives that can be examined and refined. In fact, very rarely do videogame sites discuss narrative beyond the
mis-en-scene
. Look at the recent news articles on
Enslaved: Odyssey to the West
.
Much talk is made of screen writer Alex Garland and sometimes about how a Hollywood writer is working on a videogame, thus helping the medium gain acceptance.
Virtually nobody
talks about how
Enslaved
is a re-imagining of
Journey of the West
(beyond the obligatory name-check) and how that translation of its universal ideas works out for a Western audience.
Is literature really not that important enough for page hits?
Does it just cement the stereotype that gamers donít like to read?
Considering the various responses to Destructoidís
recent competition
, this simply cannot be the case.
Sure, thereís the reference to it and the odd pop culture joke about
Monkey Magic
, but thereís very little in the discussion of interpretation. Make a search and youíll find its one line at best, probably because the writer doesnít knows little about the source material.
Not that anyone should be pretentiously admonished for a lack of culture.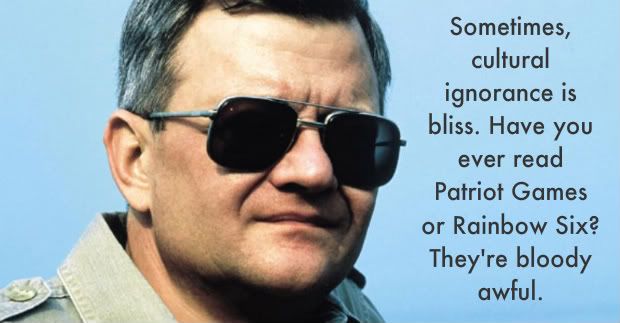 If you have the time to think about it, your favourite videogames stories have probably been derived from literature. Personally, one of the best games of the year,
Alan Wake
, wore its heart (naively) on its sleeve; another potential sign of where developers have been trying out new avenues.
You canít turn a book into a game, but you can sit there, digest the ideas, before assimilating those elements into your own. The sarcastically shocking thing is, by taking the time to look at the parallels and seeing if they fit together, youíre already halfway to making a great videogame idea. It certainly worked for
Call of Cthulhu: Dark Corners of the Earth
and almost every Tom Clancy game known to man.
If celluloid learned the basics of narrative from the written word, then maybe thatís what videogames should be learning from too. Then again,
it is
easier and more profitable to rip-off that scene from that movie you saw once, you know, for no other reason than it looks good in HD.