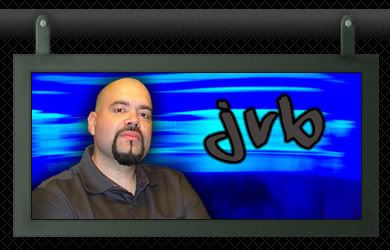 Podcasting: the new sensation that is sweeping the Internet, has so many people doing it , gamers, politicians, news anchor, etc. It has given Blogging a run for its money and has become something of a respectable outlet. There are a lot of podcast that focus on all types of events, activities, hobbies; you name it, its there. Gaming has ruled the podcasting world with the release of the Nintendo Wii, Playstation 3 and the Xbox 360. Each console brings its own dedicated fans, games, and hype. I am one of these podcaster's who talks about gaming, and loves it. I will talk a little about my life, as a podcaster, in hopes of helping the general public understand how hard a podcaster has to work.
My gamertag is JVB, but in the real world my family and friends know me as Joe Betancourt. I have a wife and a five year-old son: who are my life. I am an elevator technician for Schindler Elevators. On Monday nights I go to school for four hours and do a podcast with Godfree and the rest of the Gamertag Radio crew when I get home around 10pm. On Tuesday I record Podtacular: The unofficial Halo Universe Podcast, with Foo Mo Jive. Add the role of news editor for www.unclegamer.com and www.controllerfreaks.com to the list of activities that take up my free time.
You might be wondering; how the hell do you find time to do all that? Well, its not easy, but I try to maintain a strict time schedule. I plan my week and stick to it as much as possible. The main thing that I always keep in mind: family first. If I ever find myself choosing between podcasting and family, family wins, by a landslide. Work and School are the next issues that remain important in my life. So once you determine what are the most important things in your life, you are ready to set up a good schedule for your hobbies, in this case, its podcasting.
I will use Podtacular as an example here. Every Tuesday Foo Mo Jive and I sit down to discuss what we will talk about. We share show notes, and ideas for the show format. Once we get an idea of what we want to do, its time to find our guest. Most of the time we have guest lined up for that week. But, there are moments when they cant make it, which leaves us scrambling around for someone to take their place. Once we find the person/people we want, its time to do a sound check. We have had many issues with guests who have very poor sound quality. This makes it real tough because we hate to turn anyone away, but the poor audio quality makes it hard to do a good show. With that out of the way, its time to for them to look over the show notes. They get a brief rundown of what we will do during the session; intro, interview, etc. All this preparation took about an hour of our recording time.
After the audio is recorded and saved: its time to edit the show. Foo Mo Jive, the founding father of Podtacular, has done the editing for the past 6 months. This is where the brunt of the work takes place. Ask any podcaster: what is the hardest part of being a "caster", and they will give you the same answer: editing. The most crucial step in making a successful podcast is the editing. Gone are the days of low voices, humming noises, and three hour shows. Listeners have a large variety of shows to listen to, so the ability to produce great quality is a must. I know some "casters" who take up to three hours to edit a Forty-Five minute show. I cannot stress how important this is, so practice, if podcasting is something you want to look into.
When the show is ready, you need somewhere to store it. There are services like Libsyn that will give you a place to put your creation, for the world to listen to. You can either link it from your site or Itunes. Even this step can become confusing at first, but it gets easier once you've done it a few times.
Promoting your show is another important part of podcasting. To some, it's the main ingredient to success. My role with Podtacular is to help promote the show to a wider audience. Its not easy, because of the number of video game shows out there, you need to set your show apart in order to get some listeners. Even if your show sounds exactly like another show, hype it up as best as you can. When I promote our show, I keep in mind the audience I'm trying to reach. You need to know your audience and respect their opinions and intelligence, or they will leave you in a heartbeat. Being a people person really comes in handy here, and you don't get paid for it, so be warned.
So why would you want to do all this for something you don't get paid to do? That's for you to answer, but for me: I love it. I can talk about video games all day, every day. You need to set a goal for yourself when attempting to podcast. The beginning will be very tough because you will not get the results you want, and the ups and downs will test your patience. But you need to remain optimistic and work your butt off in order to stand out in the long run. The audience and your peers will notice your passion and support you no matter what. I often get exhausted towards the end of the week, and my gaming time has really suffered because of everything I have on my plate. But there is work to do, and an audience who enjoys our work, so in the end it's all worth it. So if you thought that podcasting is easy, or glamorous, think twice: its not. There is a lot that you need to be ready for, but the end results will be so rewarding when done the right way.