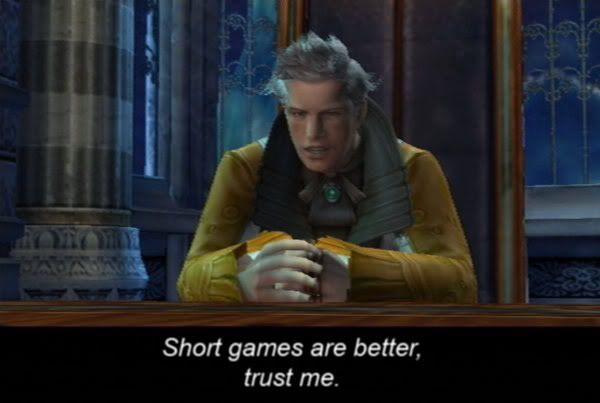 This was originally to be a comment on the
Phil Harrison clip
that
Dale North
reported on, but it wouldn't post. And it was too long. So here it is. Please watch the original video clip to see where I take issue.
I quote Phil:
"If somebody finishes that game, and they love the experience, and they want some more, does that mean we have done our job badly, or done our job well? I think it suggests that the designers and the developers created a compelling story, something that engaged the player throughout the play experience. And you know what? Not that many people finish games, so I think we shouldn't criticize a game for being a story which has an arc - it has a beginning, a middle and an end. And actually encouraging all gamers to see all of the story - I think that's really something positive."
When asked about the disappointed kid who mows lawns and sucks dick just to have enough money to buy a new game:
"I think if the quality of the production experience, the quality of the gameplay, the way that it moves you, emotionally, if it delivers on all of those fronts, what's wrong with this picture?"
Oh, he's good. But give me a break. Trying turn the interviewer's honest question back on him (and on the rest of the gaming community that also wondered the answer) by actually defending the length of Heavenly Sword and saying that it's good because it leaves people wanting more (AKA does NOT satisfy) and they had a good time while it lasted, is despicable.
Using the fact that a lot of people don't actually finish games as an excuse for a short game is ridiculous. A lot of people
don't
finish games of a moderate length, yes. And in no uncertain terms, he also presented a false dilemma: either you can have nice looking games that play well and are really fun (Heavenly Sword), or you can have longer games that are not as good. That is bullshit.
No one is criticizing Heavenly Sword for having a story-arc (beginning, middle and end), they are saying the story-arc was too short.
A film can be really beautiful, have an amazing (but short) story, and move you emotionally, but if it is 30 minutes long, people who payed full price to see it will be mad. Why should games be any different? I understand that it is a LOT of work to make a game of this caliber. That is likely the real reason that games are shorter than they could be. In fact, that seems to be the trend - as games get better, they get shorter. But don't tell me that the reason the game is shorter is so that all gamers can experience all the story. What about the ADHD kids? 6 hours is WAY too long for them, so I suppose you should only publish games that are 10 minutes in length.