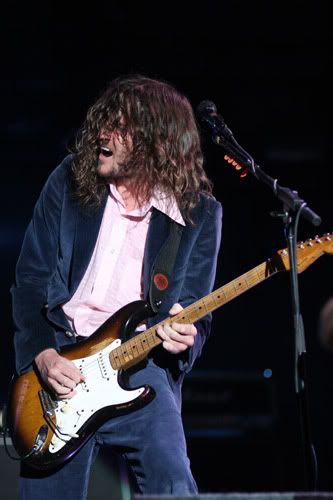 John Frusciante isnít dead. He hasnít even really stopped making music, so he really isnít going anywhere. However, late in 2009, John confirmed that after 12 years of being a member of RHCP, he has now quit in order to pursue new musical interests.
This is something that is particularly depressing to me. I often have regarded RHCP as one of the most talented mainstream acts of the modern day. Containing amazing bassist Flea and the criminally underrated drummer Chad Smith is a good enough combo. But throw a guy like John Frusciante on there to helm the song writing and you really had a formula for the kind of pop rock that you could never find anywhere else.
Combined with Anthony Keidasís catchy spoken verse rapping, they all created an excellent combo, but that wasnít even the best part about them.
The best part of RHCP is watching their progression through the years. As a band, RHCP has seen more changes in formation than most bands did, which attributed to all the incarnations theyíve had over the years. Having John Frusciante joining RHCP due to him being inspired by their current guitarist at the time added a real hint of legacy to a band that was still in itís infancy.
Eventually they reached stability though, and with Frusciante helming their song writing he carried RHCP into success within the release of two albums. And sure enough, he gave them hit album after hit album. He wrote the amazing bass lines, Flea played them, Chad Smith made amazing funk beats that complemented Flea perfectly and John Fruscianteís minimalist guitar style combined with his incredibly unique backup vocals catered perfectly to Keidasís spoken verse.
And on top of that, they changed their style. They went from the funk rock of Motherís Milk to the melodic Californication, to the then even more melodic By The Way. What was very striking was that you were given a portal into the lives of the musicians through their music. During Californication theyíre still singing about chasing girls and flicking off cops while finally showing hints of growing up. They followed that up with By The Way which is a more sobering album that offerd one message. It was time to grow up. The funk was gone this time, and By The Way was full of songs featuring hints of regret with beautiful ballads like ďVenice QueenĒ giving tribute to the Drug Consular who saved the lead singerís life.
The Red Hot Chili Peppers were one of the few bands in the mainstream who truly operated as a unit. With so many bands emphasizing these big personalities who have a bunch of easily replaceable stock members who serve no purpose, having a band like Red Hot around was something that was very refreshing.
I feel as though Iíve missed out on something great having never seen them live. Iíve missed out on a band that aged like fine wine.
That being said, I still have hope for RHCP. Their new guitarist is a man named Josh Klinghoffer who is mostly famous for actually working a lot with Frusciante on his solo work. He definitely has the vocal range to preform Fruscianteís vocals, and Iím hoping that RHCPís inevitable new direction ends up being something that elevates them, unlike the last album they made without Frusciante, that being the awful ďOne Hot MinuteĒ.
And on the bright side, this means weíll be seeing a wealth of more solo work from Frusciante who started off 2009 by releasing ďThe EmpyreanĒ, which just so happened to be one of the best albums of the year.
Itís often hard to retain hope for the current state of the mainstream industry. Itís a bloated monster more concerned with creating personas and hit singles than it is with the quality of music anymore. RHCP was one of the few beacons of hope for the industry. That a band could survive on musical prowess alone, that a band could still achieve mainstream success while shoving all the previous conventions back into everyoneís faces. With him gone from the mainstream, that bacon has gotten a little dimmer. Hereís hoping that RHCPís upcoming album only illuminates it, instead of extinguishing it completely.