It was a few years ago that Remember Me's devs, Dontnod, made this comment relaying what publishers told them about Nilin's gender:

"'Well, we don't want to publish it because that's not going to succeed. You can't have a female character in games. It has to be a male character, simple as that.'"

In particular, this rationalization stood out to me:

"We had people tell us, 'You can't make a dude like the player kiss another dude in the game, that's going to feel awkward.'"


Looking at recent fiction, a handful of talented, progressive writers have been eager to tackle issues of gender portrayal in various forms of media, giving birth to a handful of iconic "string female characters." And yet, very few of these characters find themselves in romantic relationships. Those that do often only find audience acceptance when in same-sex relationships. Let's examine a few examples below.

[WARNING: SPOILERS FOR THE LEGEND OF KORRA, THE LAST OF US, THE HUNGER GAMES, AND TOMB RAIDER BELOW]

Korra:


By this point, I'm sure everyone has seen the last scene of Korra in some form. It was a beautiful, if somewhat unexpected moment between two bisexual women whose relationship was handled with subtlety and tact. Sure, you had a handful of detractors who thought it was pandering, or using homosexuality as a shock tactic to keep people talking about the show, but the overall reaction was still largely positive…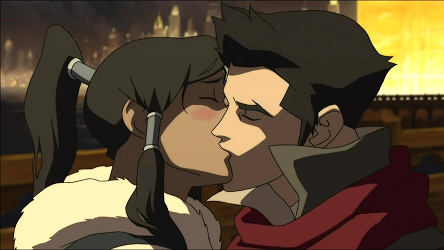 …especially when compared to the almost universal hatred of Korra's first heterosexual relationship with chiseled, broody, athletic love interest Mako. This relationship followed a familiar path of angst, passionate kissing, and dramatic declarations of mutual love. And it really, really sucked due to the complete lacked of levity or likability of either character when they were around each other. It was so bad, in fact, the writers had to overhaul Mako's character, give him a separate affair subplot with Asami, and have him dramatically dump Korra using words that emphasized the gripes the audience had with the relationship.

Ellie:


The Last of Us: Left Behind is the story of two girls who mean literally everything to each other. They're best friends, relentless competitors, and they sometimes totally kiss too. TLOU co-writer/director Bruce Straley has said that Ellie and Riley's relationship "wouldn't have been any different" if Riley had been written as a male character in the original comic, and that they simply stuck with the characters they were given. I find myself doubting this statement, however, or at least that the reception of the DLC would have been as positive if Riley were male.

Simply put, Ellie gets a lot of the tougher, more independent aspects of her personality from emulating Riley. If Riley had been male, this would have been seen as regressive towards the character's strength. The only other kid in the story Ellie's age is Sam, a young boy who is treated as pretty powerless and is often protected by Ellie, before his eventual death.

Lara Croft:


Lara Croft's romantic outlook has never been favorable towards men. As Yahtzee has pointed out over several Tomb Raider reviews, any man even slightly hinted at being a love interest for Lara ends up dead. Sometimes at the hands of the gun-toting archaeologist herself. In the 2013 reboot, the one overt romance subplot is the one-sided crush that the geeky hacker, Alex, has on Lara. When he sacrifices himself for her, even declaring her to be his hero, the best that the new, highly empathetic Lara can give him is a quick peck on the cheek before he dies horribly.


And yet, the game's damsel in distress plot doesn't rub any part of the audience the wrong way, because it features a strong woman saving a weak one. Weak and strong men alike drop like flies in the game, and are seen as either heroic or pathetic when the end comes for them. I have to wonder: could a game like this ever work if rescuing a guy like Alex was the core motivation? Could a scene like the one above ever work if Lara was carrying a man in her arms? I'm inclined to say "No, absolutely not!" because we as a society have been too trained to see such a dynamic as either humiliating for the man or downright silly and unrealistic. There is no serious precedent for it, and it would be crazy to try it in a medium that expects a male core audience, especially when publishers are expressing sentiments like those thrown at Dontnod.

Katniss Everdeen:

But what about in literature? Katniss from "The Hunger Games" is not a lesbian, but she is strongly implied to be asexual. Every romantic interaction with her core "love interest," Peeta, seems depressingly one-sided. She kisses him because she feels it will keep him strong and confident, not because she wants to. In the story's epilogue, it is heavily suggested that the couple's decision to have kids was entirely Peeta's idea, and that he had to seriously twist Katniss's arm to make it happen.


It's hard not to see this reluctance to depict a healthy heterosexual relationship as Suzanne Collins's attempt at preserving the strength and independence that made Katniss such an iconic character. While a male MC like Harry Potter can fall in mutual love with a girl and still be accepted by the audience, a strong woman like Katniss cannot accept the love of a man, or love a man herself, without seeming to betray her characterization.

TLDR Why Lesbian Relationships work with Stong Fictional Female Characters: Lesbian relationships simply have fewer examples in fiction, fewer tropes and cliches, for authors to be influenced by. Authors are required to be more creative, to think about the feelings at the core of a successful partnership instead of following the template they've seen in hundreds of romance novels, RomCom movies and cheesy anime love scenes. Mako and Korra didn't suck because it was a hetero relationship, it sucked because it was so typical, so bland, so full of tropes and because both characters lacked personalities that made the audience interested in seeing them together.

Heterosexual relationships have been depicted in a very male-centered, male-empowering manner for literally thousands of years, and any deviation from that is seen as either emasculating to men or regressive towards strong women. It's half a problem with an audience that gets uncomfortable seeing a man in a vulnerable role, and half a problem with writers that can't depict strong women as equal partners to strong men, turning them instead into the typical swooning, lovestruck morons.
As much as I'm interested in seeing more empowered lesbian women in fiction, I think it's equally important to have more examples of female MCs presented as equal partners in heterosexual relationships. It is evident that very few writers possess the skill needed to write such relationships.