Ok, so this is my first blog post EVAR. I've been a bit of a lurker since I've been frequenting dtoid from about a year ago, but I've finally decided to post because it seems like something all the cool kids like to do around here. (and God has been bothering me constantly, it's like he's some kind of all seeing/knowing being or something.) Anyways, let me start off by telling you guys a bit about me since I plan on, you know, blogging more often and generally will be around here and there.
Um, so you can find some stuff about me over to the right. Some additional things I'd just like to throw out quickly is that I'm male, (big surprise, right?) I consider myself to have an awesome sense of humor, I'm from Michigan, (missed LarkOhiya's NARP unfortunately.....sad face) I really like hockey, (hence my Xbox Live Gamertag) and I'm apparently a big fan of adding sarcastic/additional comments in parenthesis near the end of sentences.(O RLY?)
Gaming-wise, I can really play anything, but my true love is probably RPG's. Some of my fave RPG's are Final Fantasy VII (actually NOT my first RPG), Grandia II (Was my first RPG), the Pokemon series, the Golden Sun Series, (make a new one Camelot!!!) and the Fire Emblem series, although I haven't played Radiant Dawn (Wii) or the Sacred Stones (GBA) yet, however I do own both. Oh and finally, I promise not to post any blogs about Smash Bros. Brawl (ok, maybe one or two...) even though I am extremely excited for it.
Phew, now that that is out of the way, Let me get to the main event. The title of my topic relates to video games (this is a gaming blog after all...) even though I'm sure some of you were thinking about something else....... so shame on you. So.....do you remember your first video game moment? Was it a happy experience? Did you get hooked after your first time playing, or did it happen later?
For me, my first gaming moment (at least in memory) was from this gem: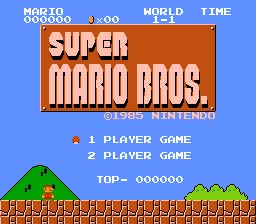 Yeah I'm sure it was a lot of peoples first gaming moment, but it was still special to me. I was about 4 or 5 when me and my brother got this thing called a Nintendo Entertainment System for Christmas. While my older brother played it first, (the jerk pushed me out of the way....I think.) I still sat there in amazement just watching this new experience. When it was finally my turn after my brother got bored, I'm sure there was a big stupid grin on my face when I picked up the controller. World 1-1 started up........and I vividly remember getting owned by the very first goomba.
You'd think I'd throw down the controller and give up. But from that moment, I think somewhere inside me I knew I'd be a gamer for years and years to come. I kept trying and eventually beat the first level. I'd go on to play Mario quite a bit over the following months and even years. However I don't think I ever beat SMB when I was younger, although I do remember getting to the last World.
Well, to the few of you that read through all that, let me turn things over to you. What was your first gaming moment like?