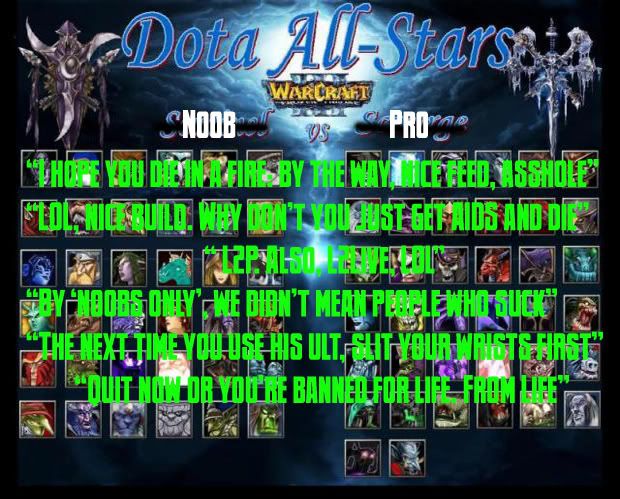 [All of the above quotes were actually said to me at one point in time whilst attempting to learn DotA]
Defense of the Ancients
has become a national pastime for gamers: and all of it spawned out of a simple modification for
Warcraft III
. Taking the focus off waging war as the commander of an army, you are placed within the role of a single entity: a summoner. The common misconception is that since you only have to control one unit, it would be much easier than micromanaging platoons. This fallacy nearly cost me my self esteem, folks.
Since it's initial explosion,
"DotA"
has evolved into an incredibly popular niche game, and garnered a community of thousands: from strategy enthusiasts to general gamers. However, after just two days of experience with
DotA
, I concluded that it did not actually stand for "Defense of the Ancients", but instead:
DotA: Die, odible, tabanid asshole!
Def: odible
"worthy of hatred" [due to the player's ineptitude]
Def:tabanid
"blood-sucking insect" [the player is sucking his team dry of resources]
In
DotA
, a new player can effectively change the tide of an entire match. By "feeding" the other team with the glorious rewards of free experience points and riches upon death: all it takes is one "noob" to bring an hour long standstill of a game to a screeching halt. Then, the insults fly...hard. But before any of this happens, many gamers have engaged in a predictable step by step pattern after becoming intrigued by the notion of a "simpler" strategy game.
From cordial prospect to prospective cord hanging:
1) Hearing about DotA everyday all day, they inquire as to what it is, and instantly are engaged by the prospect of team play.
2) They log in to their first DotA game, aptly labeled "noobs only" [sounds inviting, yes?], and assume that it actually is a "new players only" game.
3) The player is shunned and ridiculed after his first death: his sexuality brought into question, and the moral dilemma of whether or not his parents should have had an abortion is put on the table. The player is a jaded shell of his former self, and vows never to play DotA ever again.
At least, these are my experiences. But, with a little help from my friends, I found out there is still hope for the soon-to-be suicide watch gamer.
Either:
Find other people to enjoy the game with, and play private matches, until they inevitably rise above your skill level
or
Stop playing DotA, and go back to Warcraft III (noob)
Ok, so those really aren't options. As you can clearly see, the situation looked pretty bleak, until only recently. The newly developed
League of Legends
has attempted to break down the barriers of entry with a simplistic "tips" system for individual characters, and custom tailored items for each player to choose from.
However, underneath it's welcoming exterior is a massive superhighway of rune combinations, skill trees, and advanced tactics that will absolutely fly right over the head of casual gamers.
While I am improving, unless I dedicate three lifetimes to the genre, I have no hope of actually becoming a deciding factor in any battle, and will be forced to play with more forgiving close friends for the rest of my dying days. Considering I'm adept in just about every other genre, my inability to actually become a better player is a perplexing dilemma.
So, fellow DotA bloodsuckers everywhere:
unite!
Someday, we will be a forced to be reckoned with after our years of hiding beneath the Earth's crust in our private games, and then: "they" will feed
us
.