So, that was fun. I just watched our next commander in chief give his winrar's speech in a room filled with 300 people, who proceeded to break chairs and tables all around me after hearing the final results of the night. Congrats Obama, thanks for being a gracious loser McCain, and suck it to everyone that booed Obama at the McCain rally.
Now, please, no more election news.
Also, you heard it here first: Mirror's Edge is Game Of The Year. That is all.
Anyway, in the blogs today, we've got a host of presedential candidates you didn't know were running, a paper representation of SMB for the NES, and the introduction of Dtoid Toronto, for all you crazy Canucks.
From the makers of last Tuesday's Cblog recap comes...
TODAY'S CBLOG RECAP!!!!
*-B-Radicate finds a Hamza shout-out in one of the best webcomics, Questionable Content.
*-SurplusGamer built himself an NES as a kid. So cool.
*-Wynonaís Big Brown BeaverÖthat is all.
*-Mxyís entry in the Blitz II contest. FOOOOOOOOOTBAAAAAAAAALLLLLL!!!!
*-Are you a lonely, creepy otaku with a webcam and no friends? HAVE WE GOT THE PRODUCT FOR YOU!!!
In case you hadnít heardÖ
BARACK
OBAMA
IS THE NEXT PRESIDENT
OF THE UNITED STATES
OF AMERICA.
S-walnutthewise calls for a review revolution.
S-Namakubiís Island of Forgotten Games looks at Kabuki Quantum Fighter.
M-A Time To Build: junglistgamer plays Star Wars in Homeworld.
M-A Time To Build: Half left talks about Source SDK.
E-nintendoll wants some cute for Mirrorís Edge Time Trial codes.
W-And hereís the winner.
Hopefully, none of you picked these candidates when voting today:
Michael Wilson
George Washington Lincoln
Bowser, Kuribo, and Ron Luigi
Ralph Nader
E-Team Fortress Tuesday: Election Edition
E-Hey, Aussies, thereís a Brisbane NARP coming up!
S-TimO42 nearly died in Philadelphia looking for a COG.
S-unanbangkay talks about the problems with achievements.
I-lv99ron introduces himself by talking about MK vs. DC.
I-You crazy Northern neighbors get your own Dtoid group, Dtoid Toronto!
N-Steam releases a new game-save-server system called Steam Cloud (TewDee).
N-If you havenít picked up the AMAAAAAAZING Audiosurf, itís now available on Steam for less than 3 bucks!
N-bovine wonders where the hell those free Rock Band 2 songs are.
N-BravoNavo shows some SF4 pictures he found on 4chan that surprisingly donít contain feces or nudity.
V-Heidi Klum shills GH:WT, and itís fucking awesome.
V-darkair shows off Mega Man, Pacman, and Sonic levels made in LBP.
T-eftp looks at the old-ass video game Battle Beasts (not the action figures).
T-Alexrad talks about Resistance 2 and profiles its Destructoid clan.
T-Mozgus doesnít understand all the hate towards the RE4 ports.
T-Snake726 looks into moral responsibility in Far Cry 2.
T-perri wonders if you can be addicted to something you donít like.
T-zgerhard wants Master of Magic to make a return.
A-Dear God, thatís a lot of Mario & Luigi costumes.
F-Workmengís gonna be on TV. So, whatever you do, DONíT put on Sci-Fi Thursday Night at 11. Itíll just give him more power.
?-In the forefront of political technology, CNN gives election results with a hologram.
S-Learn to read the blogs that have been posted before you.
S-Ditto to you.
S-Yeah, saw this about a week ago.
F-Congrats. Now go die.
F-Címon, dudeÖ
F-I know the forums seems scary, but, please, keep shit like this in there.
F-Oh, shit, was I supposed to do something today?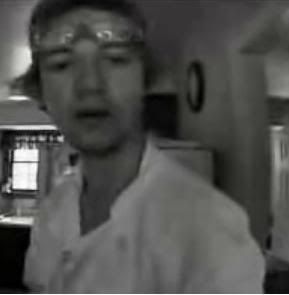 (Pendelton21)
FPoTD