Hello, fine folks. And welcome to another recap. Can you smell it, folks? Halloween is in the air! 3 more days until one of the best holidays of the year. I finally finished up my costume, and all I'm gonna say is this: DAMN YOU, CRAINEUM!!! YOU STOLE MY THUNDER!!! Yeah, I'm going as Mega Man as well, but my costume doesn't look nearly as good as the art piece craineum came up with. Well, that's bound to happen when you knit the Mega Man cap, make the Mega Buster in 2 hours, and wear a light-blue shirt inside-out. I'll have pics up tomorrow, showing off my amazing work.
Alright, time to stop babbling. In store for you today, we've got red lights all over the place, the most difficult Sonic run I've ever seen, and Concelmo hatching a kidnapping plan (check out craineum's comments).
RECAPS
ARE
*-Fana7ic talks about new British show Dead Set, saying it's Big Brother mixed with zombies. I think I'm in love.
*-ZenAlbatross is the focus of my envy as he shows off shots of the Pulsewave show he went to.
*Krash interviews Lee Nicklen, the guy behind the music of Tanked Up.
*Electro Lemon makes a pretty sweet custom mobile D-toid feeder for everyone.
*-megatron0016's idea of a FPSMMO in the Metroid universe.
*-Kif blows minds with Sonic no-ring level runs.
A-junglistgamer discusses the UK's new traffic light rating system.
A-Altered Beets is a bit perturbed about certain aspects of retro games.
A-Altered Beets apparently wants Miyamoto's job, so he's made 10 new Wii game ideas.
S-cannedpasta's HMM series: Dead and Breakfast.
S-Part 4 in luzer7072's quest to play every Dragon Quest.
S-RonBurgandy's dTunes #12: Halloween Music week.
M-ZeroTolo thinks final boss battles are scary and shit.
P-FAILCAST Ep. 18 tonight!!!
E-Dress like Kratos to win Sackboy Kratos!
E-Juggernaut offers up another retro console for the BEARD-OFF.
I hope you're happy, Microsoft: due to the 3 Red Lights, you made these people have a horrible day:
Atlas
Rhyno
lastSKYsamurai
E-Reminder: UK NARP coming up.
E-Dudemullet notifies us of forth-coming Nintendo Tour coverage.
M-unangbangkay is afraid of not having shit to do.
S-Dateline, Amazon: People's Fallout 3 SE preorders are disappearing! (gwyddia)
S-soul3150 draws Pong on drunk friend, does Street Fighter-related stuff.
B-Thornnn gave birth to a new son! Or, his wife did…I'm not sure; I'm bad at anatomy.
C-Clance is drunk.
And here come the LBP videos:
Super Sack Bros. Level 1-1
Working Combustion engine
N-Blindside notifies us of 400 Resistance 2 beta keys.
N-Dan, the best-worst character ever created, confirmed for Brawl…sorry, confirmed for SF4.
N-BravoNavo shows off the fighter's tier for SF4.
V-Good news, everyone! GOW Crab-walking is back!(Kif)
R-nilcam shows off Ketsui Death Label.=
R-BFeld13 shows you why you should or shouldn't pick up Portal, Still Alive.
T-2 rock and roll simulators enter, one simulator leaves (nintendoll).
T-Something in Fable 2 is making CaseyJones77 sick.
T-Snake726 talks about the idea of "collective anticipation" we gamers have, and how it can fault some games.
T-pedrovay gives us two pennies regarding LBP.
T-Solivagant isn't impressed with Fallout 3.
T-SurplusGamer looks into reloading previous saves in games.
T-Blindside believes Resistance 2 is perfection incarnate.
T-Shitty Uwe Boll video game begats shitty Uwe Boll movie (Batthink).
I always knew you were a bunch of uncultured bastards…
V-DAMN YOUR ADORABLE CHILD, CRAINEUM!!!
?-Other people on the internet suck, according to mitchie mouse.
?-Charles Sharam talks about the iPod Touch…and corn-filled poop…
S-*sigh*
F-I dislike Bleach about as much as I hate failblogs.
F-Based on the blogs this guy makes, he's got one hell of an ironic nickname.
F-Good God, how did you forget Bioshock?!? You're losing your edge.
F-Great pic gallery, michiyoyshiku. No, really, it's awesome.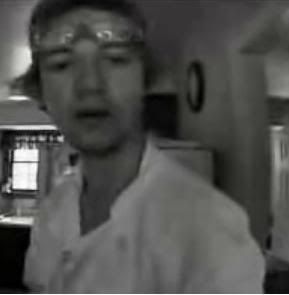 (Pendelton21)
FPoTD