E3 is winding down in the City of Angels, and by now you've either gotten your fill of the coverage or you're waiting for the in-depth stuff to come out on the games that really piqued your interest. There's a little of the latter by our amateur bloggers today, some of it quite good. There are still some news stories coming out, like aftershocks following the worldbreaking earthquake. It's a lot different than a few years ago... any leak gets broadcast worldwide in seconds, so it's awfully hard for anyone to make a shocking, awesome announcement anymore. The one constant in this world is that if two people know something, it ain't a secret.
It's the first Thursday of the month, so I pulled together a new batch of YTMNDs for you folks, hope you enjoy them. In honor of
Majora's Mask's
recent release on the Virtual Console, I have several here that were inspired by that game.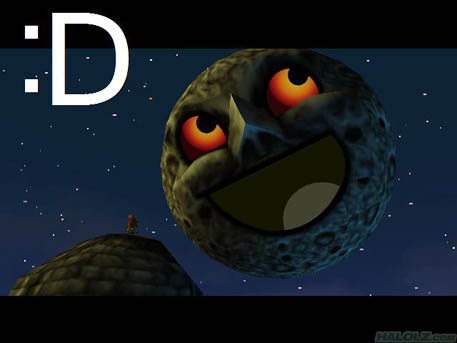 The moon is AWESOME.
Link and Sheik have a duel.
The Hyrule orgy.
Do I really have to mention this isn't safe for work?
Link is steppin'.
The evil moon stares deep into your soul.
The Happy Mask Salesman copies Batman.
A Mask Mashup. (Maskup? Nah.)
Majora's Mask doesn't change facial expressions.
Well-- that's ok,
neither does Chad.
A celestial battle.
Eight bits of Ridin' dirty.
Cary Grant aggravates a demon.
(It's VG related due to the music...
Yell Dead Cell
if I'm not mistaken.)
George Costanza likes his chicken Spicy.
And some Random Man Now Dogs:
Chewbacca's printer.
Cosby Airlines flight is going down!
Owl Pacino
.
*-Vexed Alex took some time to actually THINK about the Left 4 Dead 2 announcement rather than just reacting emotionally. Please, kids, follow this man's example.
*-RiotMonster breaks down the new motion sensing stuff that seems to have been the big 3's focus at this year's E3.
*-Breaking news about Final Fantasy 14, translated from the original runes by Crunshii. He could use some help if you happen to understand Japanese.
A-Awesomeist wrote a hefty article on how much he's enjoyed the Disgaea series. I'm afraid to start one of those, I think the potential for OCDing out would end me.
S-Gemsi's release list for the E.U. looks an awful lot like this week's U.S. releases. Lots of simultaneous worldwide stuff this week I suppose.
A-Christopher J Oatis wrote a nice little piece lamenting the (ironic!) death of the 1up.
P- Failcast is the first of Destructoid's podcasts to record and release an E3 episode so far. Why... that's not fail... That's not fail at all!
A-Miss Naia shares her experience at E3 so far. Jealous? Why yes, yes I am.
A-Amazing what you can glean from a 2 minute video, Megatron0016. Some nice observations on the trailer for Metroid: Other M.
W-Mix gave away an Uncharted 2 beta code.
C-'Lectro Lemon's MSPaint contest needs some more entries. This week's theme is (naturally enough) E3.
E-rider Chop's hosting a movie night with [i]Maskman, Muppet Treasure Island, & The Dark Crystal.
D-NamelessTed provides a link to a gallery of E3 party pictures. Lookin' good.
S-Coonskin05 whipped up some ads to promote Dtoid's IRC. The problem is... they don't make any sense if you don't already participate.
I-FlyDream introduces him or herself. Go easy on `em, seems to be here for the right reasons. Welcome to Destructoid.
B-Happy birthday, Megastryke! This post also contains a link to a game he made, have a look.
H-JayOhhBee sure likes his acronyms, but he makes a solid introduction by showing off his gaming setup. Welcome to Destructoid.
N-Why must the biggest game company constantly be the biggest collection of jackholes? Covah reports that Activision is taking "sour grapes" to a whole new level, suing to prevent the release of Brutal Legend.
Wish I could put in that umlaut.
V-What? What? WHAT? What what what?
R-RandomBullseye takes a look back at one of the more esoteric games on the Super NES, The Twisted Tales of Spike McFang. Y'know, that's a rather odd name for a magician.
R-ShadowsInTheNyte wrote some impressions of the first few hours of Cross Edge.
T-Lookin4domee had some thoughts about Left 4 Dead 2. Not sure where Kevin Bacon fits into this.
T-Musai thinks the "reborn" Castlevania: Lords of Shadow may be just what the series needs.
T-Nilcam had some thoughts regarding E3 in general, and Punch-Out!! specifically.
T-Some thoughts on Konami's announcements from Arttemis.
R-Jhett reviewed Red Faction: Guerilla. Get your ass to Mars.
R-Secret Cow reviewed FF4: The After Years for Wiiware. I didn't know this was out already. Is it just me or does NIntendo do a terrible job of promoting this stuff?
R-Bojangles reviewed the new Wolverine game.
T-LongNameGuy was impressed by the amount of really cool stuff on display at this year's E3. No sir, you're not alone.
N-A better-quality scan of the new Wii Legend of Zelda concept art is now available. Speculation regarding the direction of the game is already rampant, of course.
V-Dnky666 posted a BBC interview with Shigeru Miyamoto, where he recounts a bit of his history and dismisses the notion that NIntendo may be left behind.
D- Kitae is pleased with Mass Effect 2's showing this year, it was nominated for a few "Best of E3" awards. Congratulations!
$-In case you missed it on the front page, you can get Ubisoft games on Flash drives at Woot.com for a few more minutes.
A-Faith is taking a page from Mikey's book and asking the community what perler sprite art to make next.
F-Summer movies and R.I.P. David Carradine. NVGR.
S-Trev recieved...something. I'd say what it is but I haven't finished repacking my eyeballs into my skull.
V-Palidi shared a video mashup between Darker than Black and Devil Summoner.
R-Benson's girlfriend has done some pretty impressive game-themed cosplay... over the years.
R-Speaking of cosplay, those costumes have to come off sometime.
?-Will this be the Giant Enemy Crab or Drumflailing Ravi from this year? I think it just might.
?-Simmy made a pretty decent Destructoid skin in Forza.
C-I agree with the rage, and it comes through clearly in your post. What isn't as clear is the grammar and syntax. Proofread before you post, you'll thank yourself later.
R-Phantom Spaceman doesn't respect North Korea.
So ronery.
C-I don't really understand what's going on here. Are you playing through these games on your own? Are you trying to get others to play them with you and compare notes?
C-Whenever you use "M$" in reference to Microsoft I automatically deduct about 50 I.Q. points.
To paraphrase
Jerry Holkins,
there isn't much that's sadder than a well made argument by someone who is determined to make said argument difficult to respect.
C-I won't reiterate, the comments already let you know what to do.
F-This "contest entry" for the Damnation computer contest smells fishy.
F-Gomer would like to meet you in the latrine, "Sarge."
-
(Qalamari)
FPoTD