Note: I used to be Agonofinis, and now I am Bonfire Dog. So yeah.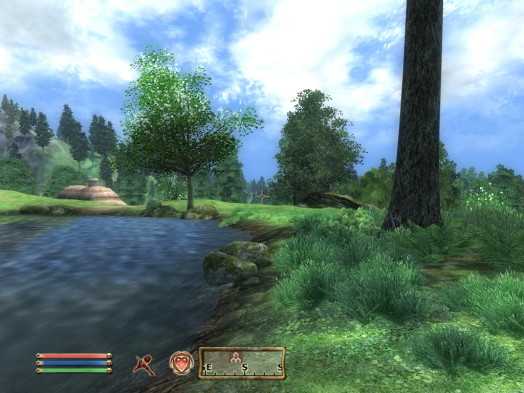 Oblivion dull...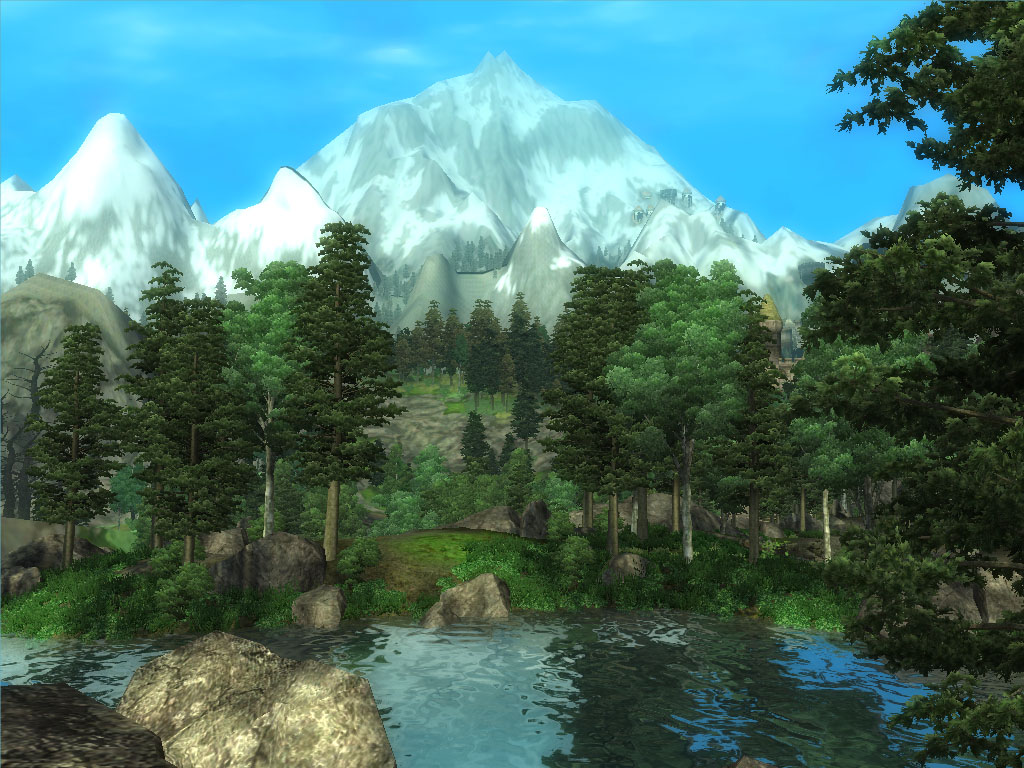 Oblivion not dull.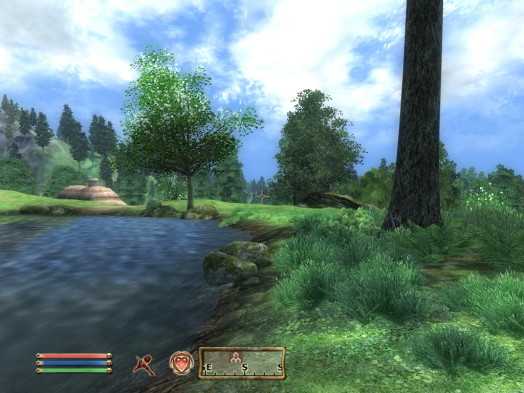 Oblivion dull...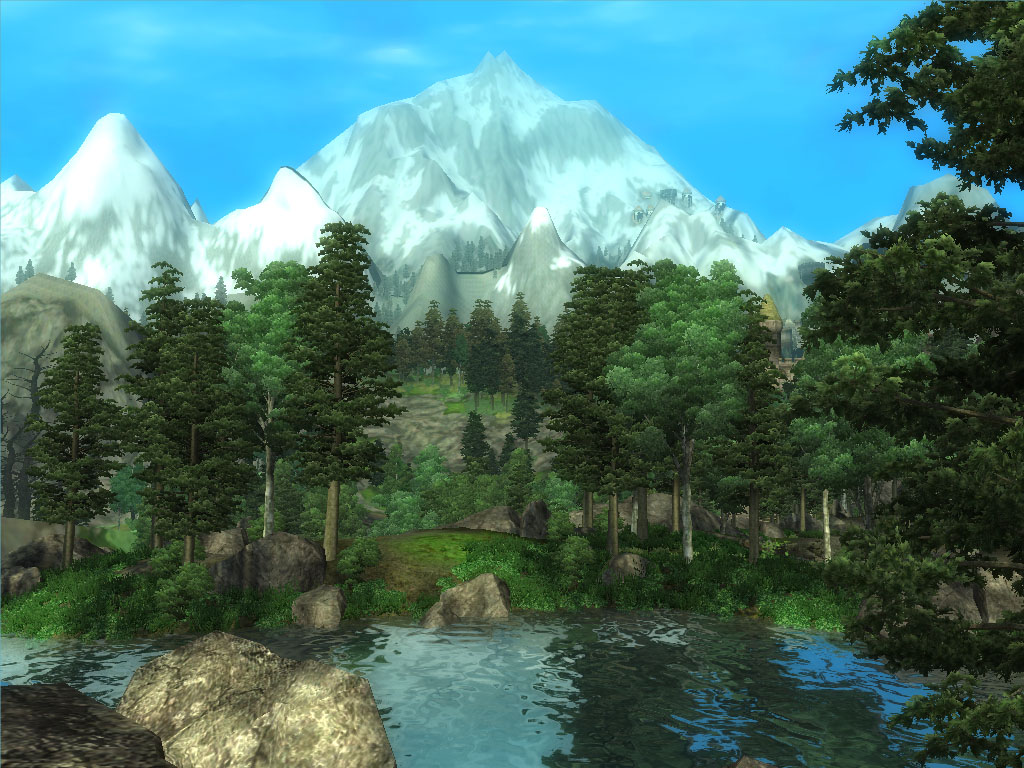 Oblivion not dull. I think you can divine the gist of what I am about to write.
I love Oblivion. The game is five years old now, which seems incomprehensible to me in a Michael-J-Fox-And-Hoverboards sort of way; it still looks appalling beautiful today. I have long since stopped playing the quests; aside from the Dark Brotherhood storyline, which plays like a more jugular-centric version of the West Wing, and some of the more amusing side-quests, I tended to spend hours (and I do mean short, breezy, numerous hours) modding the living faeces out of the game, creating a beautiful character and just walking around. I would spend three hours stretches walking along a road. In a videogame. There wasn't even some nebulous health benefit from the exercise, as my gaudily dressed character, with his shiny morning-star, pet demon and cock ring (thanks Solf) pottered along as if he was looking for a jam swap (this seemed the most twee thing I could imagine, though I would not be surprised if they existed in real life).
Now, this is an example of the area I live in; Kent, in England. It is very beautiful, quiet, and with the exception of Frost Atronachs
it looks exactly like Cyrodill
. I have
complained about this before
, and how the West Weald is a real place, and I live in it, and how this is unsuitable for a fantasy game. But why have I spent around two weeks, cumulatively, of my life, running round it? Or, should I say, walking politely? I don't know. Something about it grabs me and pulls me back, every time. The fact that there is so much to do, so many little villages and hamlets and towns that beckon invitingly around the corner, the atavistic joy I find in stumbling through copses, dells and nooks filled with cap mushrooms and deer, could have something to do with it. You could argue that I could do that in real life, and I do, but there is something about it in a videogame that seems more like an
event
, a game. I'm not just walking to the shops, I am exploring. There are no fences that can stop me, or pesky property laws that stop me and a lockpick nosing around peoples houses. I come for the dragons, the demons and the magic swords, and stay for the sustainable farming, fish hung out to dry on a riverbank, and the taverns up winding paths that lead into the hills.
Nehrim
is a total conversion for Oblivion, started four years ago by a group of frankly insane Germans, and, as they are becoming known for in modding circles, they turned out a game of staggering depth, beauty and breadth. If you have played anything by them before, be it their Morrowind TC
Arktwend
, or their Fallout 3 mod
Cube Experimental
, (which is much like
Portal
on ketamine and puts 90% of its parent game to shame) you will know just how committed these fellows are. Being a shy, monastic sort, they have dedicated four years of their life to a full-size videogame, with no prospect of payment or employment. I would argue that this is wrong. It is an oversight of epic proportions. The Nehrim team deserve to be helicoptered by Bethesda to Washington or wherever they are now to give the entire development team a masterclass in world building. I believe that
Nehrim
is that good. And I cannot even understand the language the game is written in.
Nehrim
has only been released in German, with all German voice-acting (as a seperate note to this post, the voice-acting is perfect. Actually perfect) and all German text. I have never even been to Germany, and can understand fuck-all of what is going on. I started a new game and I was in a mine. Oh goody, character development time. A troll tried to kill me, I screamed on cue, a man called Othello or Ballsack or something spoke to me in flawless German, and I set off.
The character development section of Oblivion played out in a generic, chasmic tomb-level, full of endless corridors, only breaking off for the last section, by which time you were so bored that you downloaded a save game to make sure you never had to play it again. The opening level of
Nehrim
, however, is a textbook example of indoor spaces. The perspective shifts constantly, forcing you into cramped tunnels full of glowing mushrooms, before opening into wide caverns with light piercing through sluice holes in the crumbling ceiling. Ancient, still-operating machinery rustles and hums around you, and the use of resources is superb. Though there are many new textures and meshes, the original game is all around you; it has just been warped and stretched to its absolute limit, as the designers never imagined. Barrel trains whistle by, great walls of wood and docking stations for lifts leap out of the stone. They look like they belong. They barely ever clip, and the care in their position and construction is so exquisite that you hardly even realise that everything, including the world above, has been hand-built in the last four years.
The scripting is extensive as well; in the first hour of play I witnessed a lift sequence, a terrifying pursuit by a Queen Troll which ended in a nerve-wracking escape onto a train, a cave-in, the death of Ballsack/Othello which I could not intervene in, a wall of flame destroying an army of trolls, and a final, humungous ceiling collapse that flooded a vast chamber with daylight. In Oblivion, you see Patrick Stewart fall over, and a goblin opens a door for some rats.
A goblin opens a door for some rats. Oh, and a small section of wall falls in to reveal some other rats! Don't forget that renaissance of talent! Seriously, I love Bethesda, but their imagination occasionally seems to wane. I can understand that, given the engine was developed at the same time as the game, they were really stabbing in the dark as to its limits, they are more creative ways to progress a level than have some rats knock over a pile of masonry. Oblivion is not a reductionist or absurdist drama, and so this will never work.
Back to
Nehrim
. Inevitably, you crawl outside, and
ohmyeyesohmysweeteyesthelordisrealandheisnehrim.
. The world is beautiful. It truly is. The mountains that ring the mine entrance make Oblivion look like a sand pit, and the internal logic of the mine carries out into its exterior. There is not just a small piece of track and some tools dotted around; there is a reservoir for rubble that runs down the mountain, a whole small town built from scraps of wood, a small farm, guards, shops. I open the map. This is a very, very small part of it. My heart is a small sun.
The haze effect that the team have put on distant objects takes a little getting used to; at times the horizon looks like an oil painting. But it is not intrusive, and actually seems to help performance. The amount of scripting, landscaping and object placement must really tax the now-weak engine, but it still runs well. I had everything turned up full, and there was only minor slowdown. The Germans have updated Oblivion's base textures here and there to bring them up to speed without descending their whole world into the trudge of low fps. The LOD, also, is really used well. Not often did thirty seconds go past when I didn't see a small village nestled in the distant lee of a hill, or a misty view of a far-off city. I usually ended up flying there.
You see, I had still had absolutely no idea what was going on. I was there to see the world. I used God Mode and Noclip to their fullest, soaring over mountains, descending into castle eyries and riverside towns. I used the Kill command on anything that got in my way, that spoilt my enjoyment of the spectacle. When a world can reduce the gameplay to an annoyance, you know that it is of a quality rarely seen (though it makes me worry for the gameplay, obviously).
Of all the world-building skills these people use, perhaps the two most important are
interest
and
believabilty
. I was genuinely interested by their world, though I did not understand it; I trundled through it like a ghost, poking my head into buildings, disappearing around corners, soaring over river deltas to reach a gigantic shrine on the side of a mountain. The places became fascinating for me; the sprawling capital city Erothin, the beseiged Cahbaet, the eerie, deathly Treomar, and the Arkanes Sanktum, a magical university that, again, makes the Arcane University in the Imperial City look an utter preschool (I fully enjoy using the word 'preschool' as a pejorative). As you walk through the world your lines of sight are drawn without you even knowing it; small gaps in the trees force you to see a hidden village, and compel you to visit it. Looking up, something I rarely do in videogames, rewards you with hidden towers on distant peaks, and mining equipment hanging in the trees. As in the cave at the beginning, the world handles what I would call macro-environments and micro-environments extremely well; large, open areas, where the view and the experience is key, feed flawlessly into small, intensely detailed areas, perhaps with equally small stories to tell, but ones that have forced you to visit them, and forced you to care.
As said before, Nehrim is a world you can believe in; the evidence of agriculture and infrastructure, the tenets of medieval life, are all here and pleasantly accurate. As I gleaned from the dreamy posters scattered about, "magik" is "verboten", and life is pleasingly pedestrian. The cities are large and filled with homes and shops; there are fishermen, worshippers, farmers, hunters, existing in a superbly simulated reality.
Nehrim
will have an English translation soon, we are promised, and I will most likely play it for the 50 or 60 hours promised. But there was something special about my six or so hours with the game as a silent, unknowable place, the quests clandestine and forbidden by my lack of German. But really I am only here to talk about the world, and the Nehrim developers have taken a creaky engine and drawn everything they can from it, creating a world that is both informed by the real one and truly their own. Creation for creation's sake is a wonderful thing, and there is at least one gamer who would happily walk around Nehrim for as long as he wanted. I think that would be a very long time.