I want you to picture me on the night of December 11th, 2010.
Something had happened to me. To a layman I may have seemed a young victim of a stroke, or perhaps seemed to have finally caved in (literally) and attempted a self-administered rhinoplasty, only to fart, slip and render my own cheek into industrial sealant. My eyes had the doughnut-glaze and a cherubic glow came from within, and the whittering of angels. Except those angels had acne scars, blue skin, red eyes and sung in a gravelly B flat.
Welcome back, outlandeeeeeer...
Elder Scrolls V: Skyrim
was revealed at the VGAs by Todd Howard, flanked by cowled artists and designers, to huge praise and not much surprise. The game's announcement was much like a fat bridesmaid at a wedding; the probability of her crying in a corner, holding a plate of coronation chicken, is rather moot, and only a matter of time. I even
mistakenly announced its arrival months ago and got all huffy.
So, November 11th. I will
observe my minute-long silence
, as I always have, and then that will be that. Most likely for five years. And my sphincter.
And now
Oblivion
, the loved father, the gleaming mess, the shambolic lover, is on its way out. I may never come back to it again, and so this is to be my last post about the game.
This is the first screenshot I ever saw of the game. I believe I had one chest hair at the time.
I mean it this time.
No double triple foolies paxies.
The game has inhaled so much of my time as to be an official occupation, and much of that occupation was spent installing mods. I would wager that over 50% of my time spent with Oblivion was installing and testing mods. I have tried pretty much every major mod out there (apart from some of the more perverted and idiotic affairs, which are best left to those who build them), and below have whittled from the lumber of my hard drive a list of my nine favourites.
I must stress that these are not necessarily the best, the most useful, or the most immersive of the 200-odd mods I have in my sleek and mature collection. I do try to play in an immersive and consistent fashion, but even I am not immune to the occasional inclusion of a wise-cracking dwarven sidekick and fluffer, or a sword that calls you a "bally twazzock". You may find better mods. In fact, you will find better mods. But these are nine that I play with regularly, feature in all my games, and that I believe represent the best that Oblivion has to offer. The fact that it is still installed, 6 years after my pre-order, is testament to this.
Thus I would argue that the next 9 months are the perfect time to reinstall this misunderstood blockbuster and give it some real welly. Really tax it. Go for a walk. Stab a little man with wings. Because (I hope, if only to negate the amount of ball-sweat cumulatively produced in the Western hemisphere since 2005) it will all be forgotten soon.
PERSONAL PACK GUARS
Guars look a little bit like dinosaurs with a horrific genetic disease. I rather love them, if only for their spindly frames and stoic acceptance of generational Dunmer abuse. And someone very clever has brought them to Oblivion. Whether I am playing a mage, fighter or thief, it is much easier to get attached to something that looks like a battered (I mean with egg, not a kosh) turnip than a generic stallion. The backstories you create as to how your character got lumbered with such a loveable creature are good fun, and the animation and modelling on this project are very, very well done.
Download
KVATCH REBUILT
Kvatch, you look like
hammered ballbag
. I rescued you, what, like five months ago? The Oblivion crisis is over. All your whining citizens, with their dismemberments and horrific cerebral scars of their entire lineage transmuting to charred pot-pourri, are
still
sitting at the bottom of the hill. Don't you think it's time to get on with your lives? I'll even help. Hell, I'll even be the count or countess, if you like.
Download
BOOK JACKETS
I am a consumer of books. I am a bibliovore. In my digital pastimes there is no difference. Oblivion contained some excellent and varied writing in its in-game literature, something that many gamers chose to pass over in favour of, you know, actually engaging in gameplay. But I bet that a lot of them would have hunkered down for some book learnin' if the covers had looked this gorgeous. Being able to tell what is on your shelf without having to mouse over a dark-green square is a revelation. You won't go back.
Download
WYRE BASH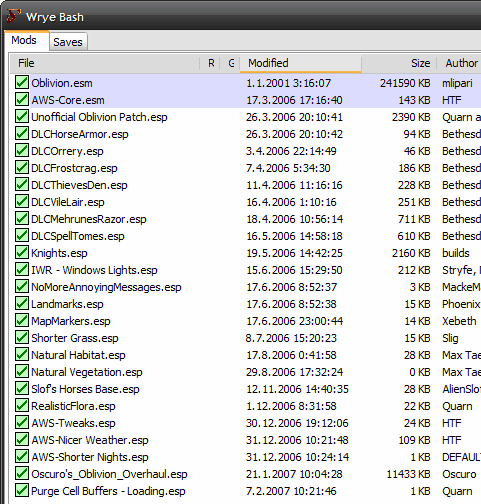 This is a boring one to take a screenshot of, but a good'un. This program will provide you with a new launcher, a comprehensive mod list and load order, save game editor, compiling software, mod installers, and so much more that it is a wonder that anyone would ever use the little beige ring-piece that came with the vanilla product ever, ever again.
Download
FALLING STARS
It is difficult to put a small screenshot of this on the page, so go
here
to see what this mod does. Combined with a better night sky texture, this mod is a tiny, unconscious addition to a world that is already so fantastically detailed that you may only notice a meteor once every month or so. But, if you are trekking through a yew forest at midnight, and stop to allow your nebulous fatigue bar to rise, look up. You may catch a glimpse of my favourite Oblivion mod ever through the trees.
Download
ELSWEYR
Almost like a series of DLCs rather than a mod, Elsweyr adds the entire Khajiit home province seamlessly into the Oblivion world map. With new cities, quests, dungeons and mounts, the mod stands on its own as the best large-scale addition to the game since its release. However, what really sets Elsweyr apart is the community spirit that had arisen around it. Countless modders wait for each monthly update, and modellers legendary within the virgin lagoons we bask in have added their work to the
oeuvre
. Other modders have even changed their releases so as to fit in with the expansive vision of Elsweyr. To me this is modding and community at its best, and the quality of the place is just breathtaking.
Download
UNIQUE LANDSCAPES
This is kind of like namedropping The Decemberists at a Pitchfork hula party, but the reputation of the Unique Landscapes series is a deserved one. For transforming Oblivion from a pleasant but dull approximation of the subconscious of a Gloucester pie crimper into an honest-to-god
wilderness
, one where I fall down ravines with alarming regularity, it deserves to be on every Oblivion player's hard drive. Bar none.
Download
SHEZRIE'S TOWNS
Oblivion does architecture rather well, I like to think. A kind of baroquness emerges, tempered by medieval wattle-and-daub and the alien, almost Hellenistic spires of the Imperial City. However, there is not enough. A few villages filled with cthonic Lovecraft rejects and trout farmers is not enough. We need more. We need more player housing, set high in the hills and low by the shore. We need an ecosystem, one that explains the proliferation of random foodstuffs across the game world. Shezrie's collection brings realism, explanation and expansion to all aspects of the Elder Scrolls. Visit Pell's Gate to see just how much work and invention has gone into this. The most stunning village mod out there.
Download
BETTER MEATS - HAMMY MCHAMHAM EDITION
YE SHALL BE RUBBED LIKE ERRANT BURRS, MORTALS
FROM THE HUSK THAT YE CREATED
THY FLESH IS SUNDR'OUS, AND VAGUE
LIKE THE OCEAN'S MAP!
BE THANKFUL, YE,
THAT HAMMY MCHAMHAM
OH STELLAR GUARDIAN
OF RESOLUTION
HAS COME TO MAKE
THY MEAT RECOGNIZABLE
AS MEAT
AND NOT AS THE COLOUR
OF AN ESSEX WIFE'S EN-SUITE BATH!
Download