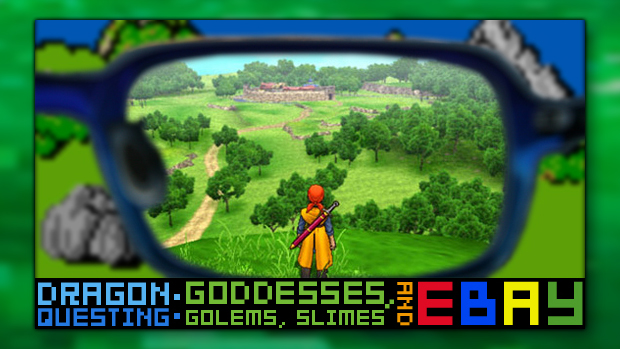 Er... Hey everyone, to anyone and everyone who reads these, sorry that I haven't done one since early August of last year, but I kinda got married in November and that took a significant chunk of my Dragon Questing time...
Matter of fact, being married has dissolved a huge chunk of my gaming time in general!
And, well, I kinda also got a PS3. Been dedicating a huge amount of available time to that...
But yeah, still playing Dragon Quest VII. At the very last dungeon! I'll be getting into the habit of writing about it very soon.
Sorry for such a long drought!
----------------------------------------------------------
For the past Dragon Questing blogs, click the links below:
:::::::::: From Dragon Quest VII:
Dragon Questing Part Fourteen: Groundhog Day
Dragon Questing Part Thirteen: I am 100% Addicted to the Dharma Temple
Restoring the Planet: Dragon Questing, Part Twelve
Meet the Warriors of Eden: Dragon Questing, Part Eleven
:::::::::: From Dragon Quest V:
No Wonder Everyone Loves This Game: Dragon Questing, Part Ten
Coming to America Sans Eddie Murphy: Dragon Questing, Part Nine
:::::::::: From Dragon Quest Monsters: Joker:
I Guess They Can't All Be Gold: Dragon Questing, Part Eight
:::::::::: From Dragon Quest I:
Returning the Ball of Light: Dragon Questing, Part Seven
Getting a Grip on a Classic: Dragon Questing, Part Six
Going Back in Time: Dragon Questing, Part Five
:::::::::: From Dragon Quest VIII:
The conclusion of an Epic: Dragon Questing, Part Four
Discovering the Monster Arena: Dragon Questing, Part Three
How to Give a Boy a Heart: Dragon Questing, Part Two
Meeting the Cursed King: Dragon Questing, Part One