The Nintendo 3DS, a thing that you play video games on, came out a few days ago and was met with a seemingly modest, yet successful, launch day. Everyone will be raving about it for the next few weeks, play SSFIV3D or Pokemon White/Black on it all day, and be excited for E3ís 3DS offerings this upcoming June.
Itís not all happy times in 3DSland though, when you take into account the worrisome ďBlack Screen of DeathĒ issues popping up, lack of quality launch games, and infamously mediocre battery life. Those issues will eventually be forgotten or remedied. BSoD may be fixed with a simple firmware update because itís a software issue, better games will eventually come out for the newborn system, and the battery life can be fixed with a third party battery or new SKU in the future. There is one issue that Nintendo must take more seriously than any of the previously mentioned. That one issue is their online service.
Despite the name of the system, 3D isnít going to determine how big a success the 3DS will be, it will be how they approach online gaming with the new handheld. As you all may know, Nintendo isnít exactly known for embracing the world for online gaming. Due to their paranoia of sticking to their ďfamily-friendlyĒ image, online gaming is a road that they have treaded on with much caution. Much to their detriment, this extremely cautious approach has made their online features very barebones and inconvenient on the Wii and DS. With the 3DS, they have fixed some of these issues by adding a friends list, lessening the annoyance of friend codes by sticking them onto one system, and the introduction of the Street Pass system which may or may not be a success here in the grand olí USA.
Despite recent strides, Nintendo still canít get the internet right. Friends list are barebones and unfriendly to organization. You still canít send messages or game invites in 2011 for some ridiculous reason. And you canít access you friendís Mii for the Mii Plaza which feels like a missed opportunity. It makes you wonder if Nintendo even bothered to take notes from their competitorís superior services in XBL and PSN. For a company that boasts about bringing social gaming to the next level, you would think online would be more of a priority for them. I understand StreetPass is their main focus, but it seems to be more of a Japan centric feature due to the dense population, and the popularity of the DS.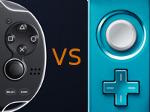 I get that the big draw of Nintendoís handhelds arenít the online play, or fancy features, but the consistently strong line-up of games it brings to the table. Problem is, Sony is going all out with the NGP (god that name sucks), and I am absolutely certain their online service at launch will be superior to the 3DSí current offering. If they want the 3DS to stay number one in the portable market, they need to update the shit out of the 3DS to even hope to compete with whatever Sony has planned for the NGP.
The eShop is also something Nintendo must get right if the 3DS will have any chance in the increasingly competitive portable market. The emergence of apps in the past few years led by Appleís iOS and Googleís Android is something I believe Nintendo should take seriously. Despite the apathy towards garage developers, these devs could immensely help the 3DS become a more flexible device. Nintendoís already on a good start with Netflix support, why not expand on that? A Pokemon app that allows you to trade and battle with friends on future 3DS Pokemon games would be a stellar feature. Add some social interactivity and a a tournament mode and you got yourself a beefy app. This could be the closest we get to a Pokemon MMO. Or maybe an app that allows you use Twitter on your 3DS except itís convenient and doesnít suck like the Xbox 360ís Twitter support. Hell, an app that expands on the AR card concept would breathe more life into it. Nintendo having an app store that interacts with their games would be a huge draw for people, and would improve the 3DS experience immensely.
Game pricing is also very important and something Nintendo cannot screw up if they want to remain top dog. The iOS and Android platforms have had some success with mobile games by having their games priced at a reasonable dollar or a few. Nintendoís chance at holding an influential portable market is thereís for the taking. For example, pricing Metroid Fusion for the GBA on the Virtual Console (Handheld?) at $20 will surely bring about some laughter by gamers following some disappointment at your inability to price reasonably. Pricing it at $1-$5, will create some good will and a lot of sales along with respectability for your store.
The biggest issue that needs to be addressed is the friends system. Itís a good start by Nintendo, but sending messages and game invites would do wonders and cement the online foundation. Organizing your friends list by who is online and who isnít would also help and give userís less headaches after
adding their 100th friend
. Expanding a personís profile to include a mini-bio and other info would help out in Nintendoís quest to improve social gaming. Let userís try StreetPass with their friends and exchange Street Fighter figurines or our Miis.
If Nintendo implements even 50% of these suggestions onto the 3DS then I believe it will be the ultimate gaming device, and I will love it long time. The 3DS has an amazing amount of potential and I would hate for it to be squandered just because Nintendo is afraid of the internet. Iím currently playing SSFIV3D and I have to contact my cousin through the phone in order to get him to play online with me. If Nintendo adds a simple invite feature in the coming months, then the 3Ds may be in good hands.