A couple of weeks ago I asked the brave men of Destructoid to send me their sexiest Nerdcore pictures and they responded. My e-mail inbox has been full of the hottest gamer bodies just dying to see the light of day, so now it's time to let them loose on Destructoid and announce the winner of the Men of Nerdcore contest.
This Dtoid reader sent in three awesome pictures that all our judges fell in love with or at least Nagiko and I did. Analog Pidgin and CyberneticTigerZ quickly judged each picture and then spent several hours looking at hardcore porn to cleanse their minds.
Hit the jump for the winner of our Men of Nerdcore contest, and the best of our Nerdcore entries.
The winner of the EB Games $50 gift card and Nerdcore Calendar is … Dexter345! Congratulations on being the sexiest Nerdcore guy!
[Editor's note: Our friends at G4TV showed the pics to their female staff -- priceless photos of their reactions are posted on The Feed. Dex is now internet famous! - Niero]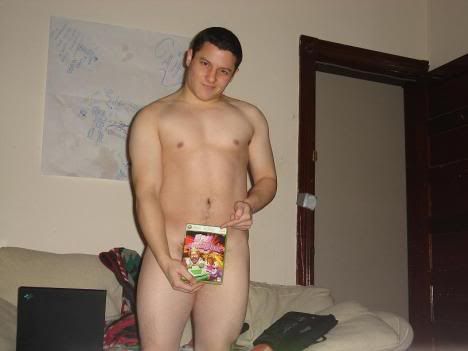 Thanks to all our other entries! You are proof that gamers have the biggest balls of them all, or at least big enough to need a Nintendo DS to cover them.
Dexter345 shows off his Wii action shot.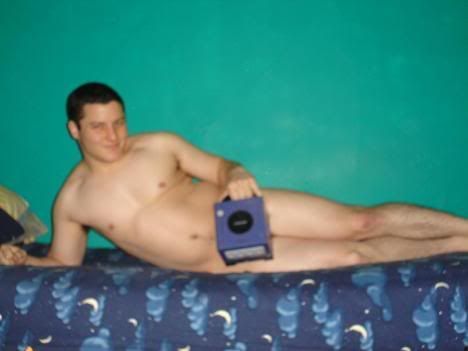 The Dexter345 and the Gamecube. Sexy, but is it art?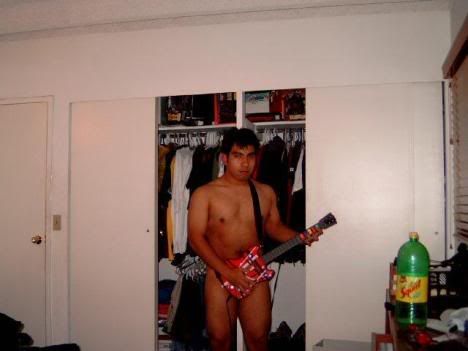 A true
Guitar Hero
- Dtoid reader, Knives.
Knives like to rock out with his cock out to Guitar Hero, literally!
CannibalCalvin called him the Nintendoooboooy, but I think a guy is sexier with a little extra meat. Just more of you to love ... and more of you to pitch in a wrestling match to decide who gets the controller next.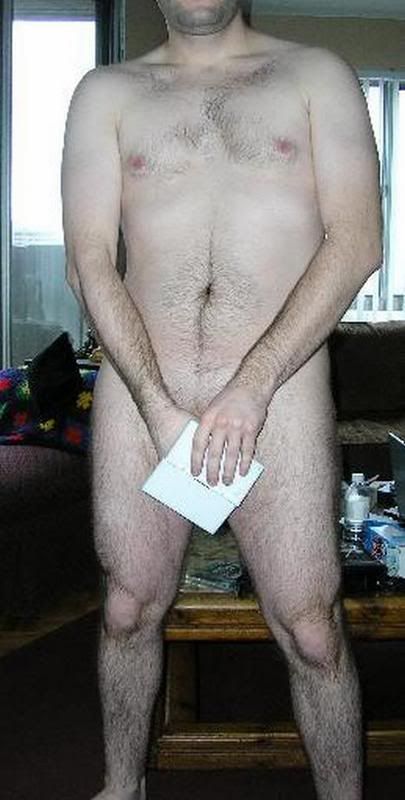 And last, but not least, The Zero God and his Nintendo DS reminds us that touching is good!
Thanks again to all who entered the Men of Nerdcore contest. You all rule the internets today!
Contests Official Rules
No Purchase Required to Enter or Win
1. Eligibility:
Destructoid.com contests are usually provided by sponsors who, due to customs and shipping costs (yay budgets), often limit participation to individuals who are legal residents of the fifty (50) United States (unless otherwise stated) and are at least 12 years of age. We encourage our overseas friends to be super sneaky and make a friend in the United States who can receive your prize, and then you two figure out the customs/logistics. Be cautious about who you trust, obviously. Employees of destructoid.com, their advertising or promotion agencies, those involved in the production, development, implementation or handling of Contests, any agents acting for, or on behalf of the above entities, their respective parent companies, officers, directors, subsidiaries, affiliates, licensees, service providers, prize suppliers any other person or entity associated with the Contests (collectively "Contest Entities") and/or the immediate family (spouse, parents, siblings and children) and household members (whether related or not) of each such employee, are *not* eligible and will be fired and publicly beaten if are caught participating. All U.S., federal, state and local and regulations apply.
2. Agreement to Official Rules:
Participation in the Contest constitutes entrant's full and unconditional agreement to and acceptance of these Official Rules and the decisions of the Sponsor, which are final and binding. Winning a prize is contingent upon fulfilling all requirements set forth herein.
3. Entry Period:
The start and end dates/times of each Contest (the "Entry Period") will be posted on the applicable Contest site.
4. Entry:
To enter a Contest, follow the instructions on the Contest site. Submission will result in one (1) entry. The number of times you can enter the Contest will be posted on the applicable Contest site. The use of any agencies or automated software to submit entries will void all entries submitted by that person.
5. Drawing:
Unless otherwise specified in the contest details above, we will select the names of the potential winners in a random drawing of all eligible entries received during each Entry Period. The number of winners to be selected in a specific Contest will be posted on the applicable Contest site. The odds of being selected as a potential winner depend on the number of eligible entries received during the Entry Period. Potential winners will be contacted via email and will be asked to provide their full name, age and mailing address within a specified time period. If a potential winner does not respond within the timeframe stated in the notification email, we may select an alternate potential winner in his/her place at random from all entries received during the Entry Period. Limit one (1) prize per household per Contest.
6. Requirements of the Potential Winners:
Winners will be notified by the e-mail address associated with their account on destructoid.com.com and/or receive a Private Message on destructoid.com.com or through a Twitter Direct Message/Facebook message. Winners have five (5) days from the original message alerting them of their winnings to respond and claim their prize. If no winner comes forward within five business days, the prize will be forfeited and raffled again where Destructoid's hardcore fans are most active (forums/community blogs/facebook group).
7. Prize(s):
The prize(s) (including each prize's approximate retail value) available to be won in a specific Contest will be posted on the Contest site. No cash or other substitution may be made, except by the Sponsor, who reserves the right to substitute a prize with another prize of equal or greater value if the prize is not available for any reason as determined by the Sponsor in its sole discretion. The winners are responsible for any taxes and fees associated with receipt or use of a prize. Prizes will be mailed between 1 to 45 business days after winners have replied with their required info.
8. General Conditions:
In the event that the operation, security, or administration of the Contest is impaired in any way for any reason, including, but not limited to fraud, virus, or other technical problem, the Sponsor may, in its sole discretion, either: (a) suspend the Contest to address the impairment and then resume the Contest in a manner that best conforms to the spirit of these Official Rules; or (b) award the prizes at random from among the eligible entries received up to the time of the impairment. The Sponsor reserves the right in its sole discretion to disqualify any individual it finds to be tampering with the entry process or the operation of the Contest or to be acting in violation of these Official Rules or in an unsportsmanlike or disruptive manner. Any attempt by any person to undermine the legitimate operation of the Contest may be a violation of criminal and civil law, and, should such an attempt be made, the Sponsor reserves the right to seek damages from any such person to the fullest extent permitted by law. The Sponsor's failure to enforce any term of these Official Rules shall not constitute a waiver of that provision. In case of a dispute as to the owner of an entry, entry will be deemed to have been submitted by the authorized account holder of the screen name from which the entry is made. The authorized account holder is defined as the natural person who is assigned to an e-mail address by an Internet access provider, online service provider, or other organization responsible for assigning e-mail addresses for the domain associated with the submitted e-mail address.
9.Release and Limitations of Liability:
By participating in the Contest, entrants agree to release and hold harmless the Contest Entities from and against any claim or cause of action arising out of participation in the Contest or receipt or use of any prize, including, but not limited to: (a) unauthorized human intervention in the Contest; (b) technical errors related to computers, servers, providers, or telephone or network lines; © printing errors; (d) lost, late, postage-due, misdirected, or undeliverable mail; (e) errors in the administration of the Contest or the processing of entries; or (f) injury or damage to persons or property which may be caused, directly or indirectly, in whole or in part, from entrant's participation in the Contest or receipt of any prize. Entrant further agrees that in any cause of action, the Contest Entities' liability will be limited to the cost of entering and participating in the Contest, and in no event shall the Contest Entities be liable for attorney's fees. Entrant waives the right to claim any damages whatsoever, including, but not limited to, punitive, consequential, direct, or indirect damages.
10. Disputes:
Except where prohibited, entrant agrees that any and all disputes, claims and causes of action arising out of, or connected with, the Contest or any prize awarded shall be resolved individually, without resort to any form of class action. All issues and questions concerning the construction, validity, interpretation and enforceability of these Official Rules, entrant's rights and obligations, or the rights and obligations of the Sponsors in connection with the Contest, shall be governed by, and construed in accordance with, the laws of the Commonwealth of Virginia, without giving effect to any choice of law or conflict of law rules (whether of the Commonwealth of Virginia or any other jurisdiction), which would cause the application of the laws of any jurisdiction other than the Commonwealth of Virginia.
11. Contest Results:
To enter the contest without needing to buy/sell anything or request a written copy of the name of the winners, send a self-addressed stamped envelope (stating the specific Contest you are requesting the winners for) to destructoid.com Contest Winners 580 Market Street #59757 San Francisco CA 94104. We run many contests, so please be specific in what you are requesting. Winner requests must be received within thirty (30) days from the end date of the applicable contest (they're always posted on our site though). Winners are usually posted the day following the contest on our contest section.
Lastly, Destructoid has the right to kick your ass and take away your prize if you are a total
chode
, so be cool and don't kick any puppies on your way to victory. Have fun with our contests and be a good sport when you win or lose. Remember: First you get the power, then you get the money, then get the baby.